JOOLA TRINITY TABLE TENNIS SHIRT
The JOOLA Trinity shirt is printed using sublimation technology that allows dyes to penetrate deep into the moisture wicking 100% polyester microdot material. As a result the eye catching colours of the modern ombre design are long lasting. You'll stand out on the court in the JOOLA Trinity shirt.
---
JOOLA ACE TABLE TENNIS SHIRT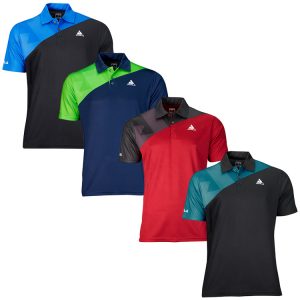 Featuring a sophisticated colour block design and the new JOOLA logo. The moisture wicking dryplay and breathable meshtex technologies make these 100% polyester shirts perfect for competition wear.
---
JOOLA COMPETITION 2020 TABLE TENNIS T-SHIRT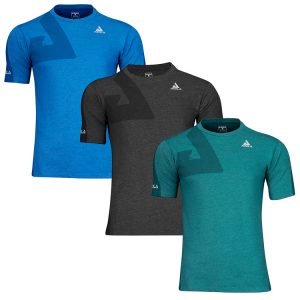 The JOOLA Competition shirt is the ultimate every day shirt for an athlete. Featuring a breathable moisture wicking blend of 60% cotton / 40% polyester, this T shirt will keep you comfortable and dry whether on the table, in the gym or just on the go. Features the new JOOLA logo. Available in green, or dark grey or blue.
---
Email us for Club/Team Quotes and Multiple Shirt Printing.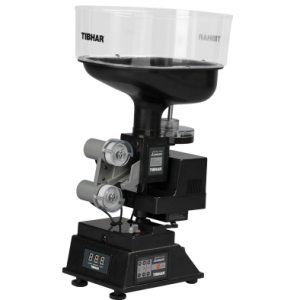 We have sold many of these versatile little robots to clubs, coaches and players in the UK – 
but what sets this robot apart from the rest and makes it Ron's Staff Pick?
Popular in the club setting – it's easy to set up – it allows less experienced players to improve their stroke techniques and consistency. Coaches tell us that the ability to adjust the topspin and chop settings to suit players abilities is a key feature, plus the fact that it is easy to transport and set up in multiple venues for coaches on the move.
Read more...
---
Hellfire X has been developed after
3 years of testing with top long pimple players
under the direction of
pimple maestro Sebastian Sauer
. The result is a pimple that long pimple players want. Hellfire X has been produced offering
slightly more speed but even greater disruption
possibilities. The OX version is ideal for a close to the table game and will allow you to dominate and upset your opponent. When defending away from the table your shots will be spin loaded and your chops will create havoc with your opponents.
Discover the supernatural powers of the Hellfire X!
Read more...
---
JOOLA DYNARYZ AGR
 is used by professionals at the pinnacle of their sport – if you want aggression, precision, high speed and amazing spin characteristics DYNARYZ AGR is the rubber for you! The new signature purple 50 degree 
Hyper bounce sponge
 provides spectacular catapult effect whilst the 
Advanced Traction Surface
Technology
provides increased dwell time resulting in fabulous spin characteristics. The JOOLA 'Pro's' have been amazed at the advancement and been delighted at the directness, hard touch and increased spin and speed potential!
Read more...
---
The TIBHAR Drinkhall Powerspin Carbon Blade is the signature blade and the exact model used by Paul Drinkhall! His requirements are specific – a blade providing balance and power both at the table and at mid distance for his aggressive spin game played on forehand and backhand wings. The blade needed to be exceptionally stable to ensure tremendous control and touch when playing a short game, despite the requirement for high speed characteristics.
Read more...
---
TIBHAR Aurus Prime Table Tennis Rubber – An ideal choice for the offensive technical player who plays an attacking all action game and requires perfect ball placement! With the innovative SSP technology (a thinner and smooth rubber surface combined with a thicker sponge), the result is a fast and catapult friendly offensive rubber.
Read more...
---
A dangerous and effective long pimple – our best selling 'fast effect' long pimple! Incorporating built in tension D.TecS technology the pimple configuration allows players to produce maximum variation in strokes from deep chop to countering their opponents returns.
Read more...
---
A superb rubber for strong attacking spin players – with a thin topsheet and the hard 48 degree sponge this new rubber has huge dynamics!
Read more...
---
The Lebesson is the personal blade and choice of the French National 2017 and European Mens 2016 Champion Emmanuel Lebesson, a sure sign of quality!
Read more...
---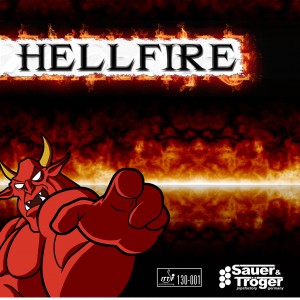 Produced by long pimple experts Sauer & Troger, Hellfire is slow and very dangerous and makes life absolute HELL for your opponents!
Read more...
---

The Koji Matsushita blade provides great control for away from the table play and in passive rallies at the net but importantly for modern defenders enough power for successful attacking.
Read more...
---

The rubber has the famous control and spin of the classic Hurricane 3 Rubber but is equipped with the Neo factory tuned sponge.
Read more…
---

The WINNING LOOP TABLE TENNIS BAT is Bribar's best ever selling 'ready to play' bat! A quality allround blade, selected by Bribar for its weight, control and durability, it is fitted with Friendship 729 for its spin capabilities when learning to play Table Tennis.
Read more...
---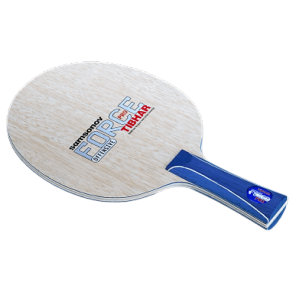 The Tibhar Samsonov Force Pro Table Tennis blade is a favourite with Bribar's Sponsored players! The original blade of multiple European champion and World Cup winner Vladimir Samsonov, has a relatively stiff medium hard feel and is designed for mid-distance counter and loop play.
Read more...
---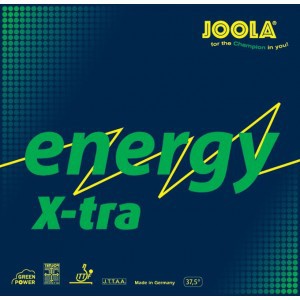 The JOOLA ENERGY X-TRA Table Tennis Rubber is Bribar's best selling rubber over the last decade! Designed for former speed glue players, who play a controlled, attacking game, but who still require excellent feeling and enhanced spin from their rubber choice.
Read more...
---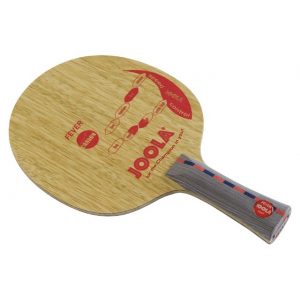 The JOOLA FEVER Table Tennis blade is one of Bribar's best ever selling blades! The FEVER has a 5+2 ply construction, starting with the 2 ply layers, these are a lightweight meliorate carbon which gives not only an extra large sweet spot but also perfect balance.
Read more...
Top value 19mm rolloway table
.
Solid undercarriage with 100mm wheels
. Minimum storage required and totally mobile.
TIBHAR Fun net and post sets for each table
16 x Drinkhall Dynamo bats
144 x training balls
Delivery
Available in blue
Special prices for 2, 3 & 4 table packages start from £762.00 to

£

1,270.80
Buy now
---
Top value table for League, Club, school or leisure centre.
22mm playing surface
, rolloway undercarriage on
100mm wheels
. Sturdy and designed for regular usage!
TIBHAR Fun net and post sets for each table
16 x Drinkhall Dynamo bats
144 x training balls
Delivery
Available in blue
Special prices for 2, 3 & 4 table packages start from £894.00 to

£

1,530.00
Buy now
---
The fabulous
JOOLA Transport table
– sturdy undercarriage, 19mm playing surface, twin roller system for compact storage and easy to manoeuvre. Even better, in addition to the massive savings we throw in
FREE of charge
:
JOOLA Clip net and post set for each table
16 x JOOLA spirit bats
100 x JOOLA training balls
Delivery
Special prices for 2, 3 & 4 table packages start from £719.99 to £1,290.00
Buy now
---
The
JOOLA World Cup table
is a superb 22mm top League quality table. Twin rollaway system for easy movement and compact storage. Durable and designed for regular use and perfect for clubs, schools, sport centres etc. Just to make sure you are ready to play, we have included
FREE of charge:
JOOLA Clip net and post sets for each table
16 x JOOLA Spirit bats
100 x JOOLA training balls
Delivery
Special prices for 2, 3 & 4 table packages start from £900.00 to £1,558.00
Buy now
---