A catch up with the Piwowar's!
---
Jakub and Kacper Piwowar are two talented young players looking to make a big impact in the game! We have been supporting and following their fledgling careers and now they are travelling the globe training with and competing against some of the world's best young players…
We caught up with Jo Piwowar (Mum) to hear about the boys season so far and their hugely busy schedule!
---
How do you feel the first half of the season went?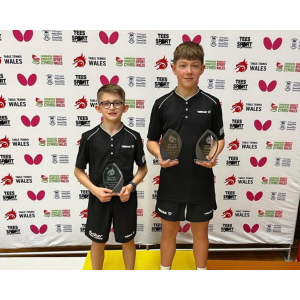 Jakub had a strong start to the season at the WTT Croatia, he came back with a couple of good wins in the U/17 event – finished at R16 beating Wei Chen Yu (HUN) ranked No 2 in Hungary junior and World ranking at No 48. In the U/15 event he finished at R16 beat Luca Oprea (ROM) ranked No 1 Cadet last year in Romania.
At the Sweden Tour Lyckeby, Jakub reached the semi-final in the Cadets, quarter-final in the U/16 and last 16 in the U/19's.
He played well at National Senior Qualifiers, finished in 6th position, and qualified to the finals!
Kacper also started well by winning the 4* Cambridge Tournament U/13's and went on to reach the semi-final of the U/15's.
At the WTT events, Kacper's best performance was at WTT Austria, where he reached the quarter-final in the U/13's and last 16 in the U/15's Kacper also took part in couple of the ITTF Hopes camps which are a great opportunity to train and compete with top world class players in his age group.
Both boys played well at the TTE Cardiff GP, Jakub won bands 1 & 2 and Kacper band 5, they earned a good amount of senior ranking points along the way.
How is Jakub finding life at Saarbrucken?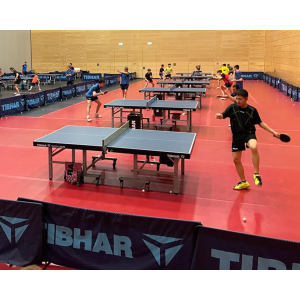 He enjoys it very much; the people are very friendly and supportive. It is a unique opportunity for him. However, it is not an easy step forward to be so many weeks abroad in a new environment, but we have tried to take these steps gradually, to be sure everyone is comfortable with it. Jakub spends a couple of weeks there, then another 1-2 weeks at home. All trips are planned around being in Saarbrucken, attending English Junior squads, competing in domestic / international competitions and his education.
We spent a week of February half-term in Saarbrucken. The support they both receive from Christoph Wagner, TIBHAR Head of Product & Sports, Nico Barrois 1st Team Manager and the Tibhar_Crew is amazing.
Training sessions are on a high level under leadership of head coach Joze Urh and it is very inspiring to practice next to top world class players under one roof.
What's next for Kacper at the ETTU and ITTF training?
Kacper is going to the ETTU U/13 Squad camp to Romania in March. When he gets another invitation to attend the ITTF camp he will be over the moon to join them again!
How often are the boys training and what are they focusing on currently?
We try to practice five-six days a week, depending on how busy a weekend was or will be. We work on their weaknesses as much as improving their stronger sides. We try to plan every week to have plenty time for including fitness, multi-balls, serve practice, match play and of course some deserved rest.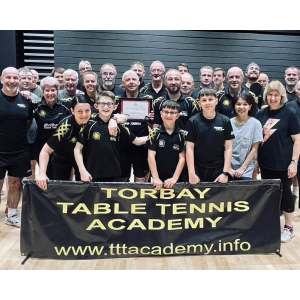 How is the club going?
Torbay TT Academy is doing well especially our adult sessions are fully booked every week.
We experienced a drop in the youth participation but hearing from other clubs it something that has happened in other places too. We do have some ideas on how to bring young children back to Table Tennis and we will start some new recruitment soon.
Where do you get the time to fit everything in?
It is a good question ? The schedule is very busy – every week – every weekend if not both boys then definitely one of the boys has something on. The family is fully committed and dedicated to Table Tennis!
Kris and I are supporting the boys' day by day as parents and as coaches. Everything is planned around Table Tennis. Many plans are organised at the last minute. Sport teaches you that you must be able to be flexible with plan changing and know how to deal with last minute decisions.
There are days where we are all so tired, however, we are enjoying our Table Tennis journey…
What equipment are the boys using this year and why do they like it?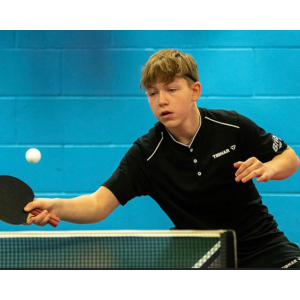 Before we go to the details, we need to thank again to Tibhar_Crew who allowed the boys to try different blades / rubbers without time pressure. They both tried many different combinations which took time and probably cost them better performance during some of competitions, but we all understood the process. It looks like both boys are using equipment which they now enjoy playing with.
Jakub plays:
FH – Tibhar MXD
BH – Tibhar K3
Blade – Cedrick Nuytinck
Jakub: "I find the MXD rubber has a lot of control with the speed which is the perfect rubber for counter spin in my opinion. The K3's tackiness is what I like about that rubber, as it adds spin to your game without much extra effort and I like how much control it has with it too. I think Cedric blade is a good blade as it's light, adds good control and feels nice in your hand."
Kacper plays: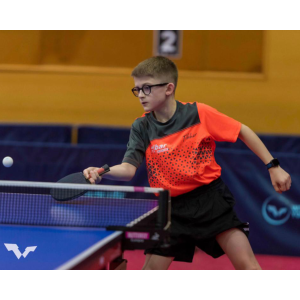 FH – Tibhar K3
BH – Tibhar MXS
Blade – Cedrick Nuytinck
Kacper: "I like Tibhar K3 because it allows me to play a lot more controlled and spinny. The Tibhar MXS gives me the control which lets me not over hit the ball too often and improves my placement. The Tibhar Cedrick Nuytinck blade it's pretty light. It lets me do the correct shots and feels comfortable when I hold it."
What's coming up in the next few months?
There are a few tournaments coming up for both boys – Sweden Tour, National Senior Championships, WTT Poland / Belgium / France and Cadets & Juniors National Championships.
We cannot forget to mention that behind all of Jakub's and Kacper's achievements is an amazing long-term (since 2011) support from Sue, Barry, Mike Chapman and the Team_Bribar.
Thank you very much: J,K,J,K Piwowar ?
---
Bribar Table Tennis is the sole importer of TIBHAR Table Tennis Equipment in the UK.
Jo and Kris Piwowar run, coach and play at the Torbay Table Tennis Academy.
---