---
Just why is the ROBO PRO JUNIOR our best-selling Table Tennis Robot…?
We have sold many of these versatile little robots to clubs, coaches and players in the UK –  but what sets this robot apart from the rest and makes it Ron's Staff Pick?
Ron Rowley, Customer Sales & Logistics Manager explains:
The TIBHAR Robo Pro Junior is my personal Staff Pick for a number of reasons. Firstly, it's made really well… TIBHAR have been manufacturing the Robo Pro Junior for some time now and it has all the qualities we are looking for – quick and simple to use, reliable and robust.
Popular in the club setting – it's easy to set up – it allows less experienced players to improve their stroke techniques and consistency. Coaches tell us that the ability to adjust the topspin and chop settings to suit players abilities is a key feature, plus the fact that it is easy to transport and set up in multiple venues for coaches on the move.
Over the last 6 months, we've seen the Robo Pro Junior become a 'go to' for players looking to get their Table Tennis fix during the lockdowns! And due to its size, ease of use and modest price it has definitely become more popular for home and leisure use too…
All in all, it really is a good value product, and by adding the option of the collection net with the robot, you'll save hours picking up balls from the floor and give you more time to improve your game!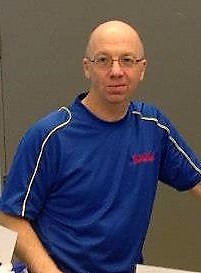 Ron Rowley, Bribar Customer Sales & Logistics Manager, has worked at Bribar for 30 years and he has played Table Tennis at local, County and British League standard.