Bribar Player Profiles
We are delighted to support some fantastic players with sponsorship from Victas, Tibhar and Joola…
---
LIAM PITCHFORD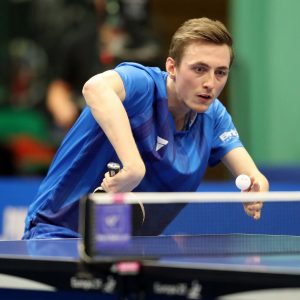 Liam has been playing amazing Table Tennis for some time now and having beaten players such as Ma Long, Timo Boll and Japanese 'Wonder kid' Harimoto, he has risen rapidly up the World Table Tennis rankings to number 12!
Liam's other achievements to date:
• 2018 ITTF World tour Czech Open Men's singles third place
• 2018 Men's World Cup Men´s Team Bronze Medal
• 2016 & 2012 Olympics Men´s singles United Kingdom Representative
• Multi national English champion in singles and doubles
Check out Liam's new VICTAS Promotional Video
Liam uses VICTAS V>15 Extra rubbers on a VICTAS ZX-GEAR IN blade
---
PAUL DRINKHALL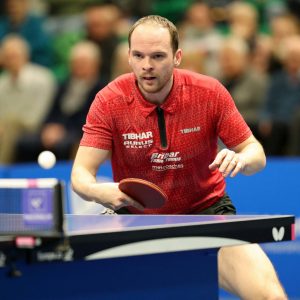 Married to wife Joanna, with two Children – Dougie and Bonnie (and one dog, Millie!)
Paul's had a stellar few years, reaching a World Ranking of 39 (March 17), been the England No 1, is the English National Champion (Just the 6 times now) plus National Men's and Mixed Doubles Champion!
Add to that a World Team Championship Bronze (2016), Commonwealth Gold & Silver medals (Glasgow 2014) and ITTF World Tour Spanish Open Champion 2014… a pretty good haul with more to come!
Check out Paul's funny interview on the ITTF's Ask a Pro Anything challenge
Paul uses Tibhar Evolution MX-P Rubbers on a Tibhar Drinkhall Power Spin Carbon blade
---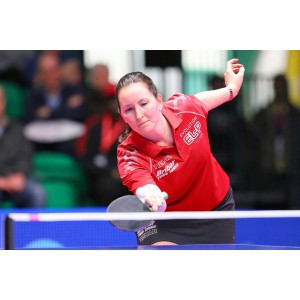 JOANNA DRINKHALL
Paul and now Jo are both Tibhar/Bribar players!
Jo needs little introduction, she is a 3 times English National Champion, a Commonwealth Gold Medallist (Glasgow 2014), with her highest English ranking at 1 and her highest world ranking at 109 (May 2014) – not too bad!
National Mixed Doubles Champion with Paul!
Jo has her own signature bat:
A Drinkhall Defensive Classic blade fitted with Evolution FX-S – for precise chop and block play – for deadly kills opt for the 1.7mm sponge. Jo Drinkhall Signature Bat
---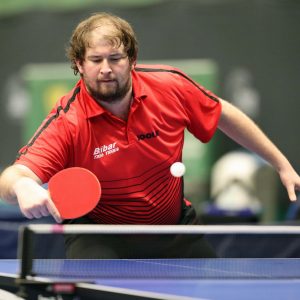 CHRIS DORAN
It's great to have Chris on board!
The larger than life player is currently ranked No.4 in England. One of the most popular and approachable players on the circuit, Chris Doran holds silver and bronze Commonwealth medals and is always one of the main contenders in the World Ping Pong Championships.
Chris has continued his great form by winning the Grand Prix Series of 16/17 season.
Watch Liverpool Grand Prix Men's Singles final 2016 (6 mins highlights)
Chris plays with a Joola Fever Blade and Joola RHYZER 48 Rubbers
---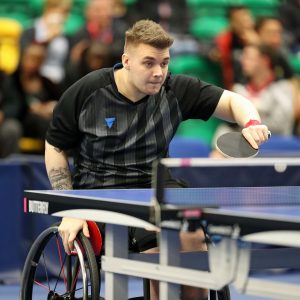 JACK HUNTER-SPIVEY
Jack is a Pro Table Tennis player and Paralmpian.
10 x times British Champion.
Recently won the Senior Nationals 3-5 wheelchair class event.
Jack plays with Victas equipment…
---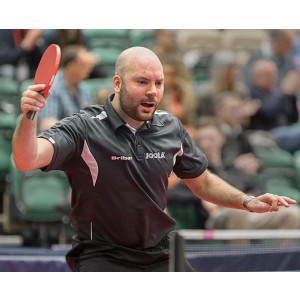 CRAIG BRYANT
Craig has represented England at Junior level, competing in a number of international opens and European Youth Championships. He has also competed for his country at Senior level, one of his notable achievements, winning a team silver medal at the 2004 Commonwealth Championships in Kuala Lumpur.
Craig has recently started his own company delivering professional coaching and coach education – check out his website at TOP EDGE TABLE TENNIS.
Craig plays with a Joola TPE Fight Blade and Joola Rhyzm-P Rubbers
---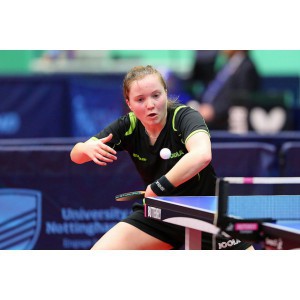 LOIS PEAKE
Lois had a great 2017 National Championships, winning Bronze medals in the Women's U/21's and the Women's doubles with fellow Sussex player Yoland King.
Highest rankings so far are 3rd in U/21's and 8th on the Women's ranking list.
Played for England Senior Women in the European Championships, picking up great experience and a couple of superb wins against players 200 places higher in the rankings. (2015)
Played for England at the U/18 European Championships beating no 3 seeds Germany 3-1 in the team event and won a crucial match against a top 30 player. (team placed 7th – best finish for some time)
Women's British League "Player of the weekend" twice and part of a"Team of the weekend" twice!
---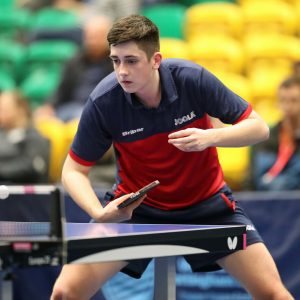 JOSH BENNETT
Josh is ranked at No.3 in the U/21 Boys – rapid improvement has seen him compete at the highest level and he had a great National Championships finishing with an U/21 Bronze medal. He plays with a JOOLA FEVER blade and X-PLODE Rubbers.
Here are some of Josh's best achievements…
Bronze medal in the National Championship Under 21's
Bronze (singles), silver (doubles) and a gold (team) at the Junior Nationals
International schools – 2 silvers and 2 gold.
Represented England in Hungarian and French Open's.
---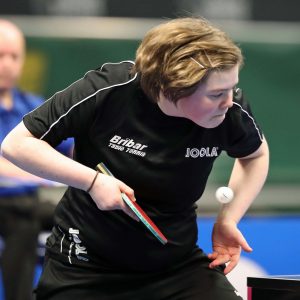 MARI BALDWIN
Currently ranked no 6 on the Women's list, Mari is still only 15 years old and has beaten some of the top ladies in the country!
National Cadet Champion
Runner up – Senior National Championships 2020
Mari plays with Evolution MX-P and Grass D TecS on a JOOLA Wing Medium blade.
---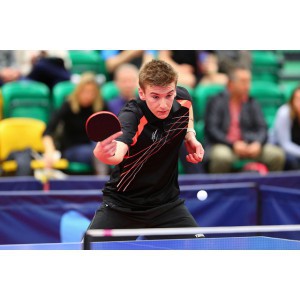 MATT LEETE
Starting at the tender age of 6 years old, Matt has already won numerous titles including:
Under 11 National Champion at the age of 9
Team Gold at Primary School International (Guernsey)
Team Gold's at Senior School Internationals (Cardiff & Ireland)
Singles Silver Medal at Senior School International (Ireland)
English Schools Singles Runner-Up U16 (2016)
UK School Games team event-gold (2015) & UK School Games Singles-gold (2016)
Blackpool Grand Prix U-21 winner (15/16)
Tipton Grand Prix men's runner up & Tipton Grand Prix U-21 winner (2016)
Stockton Junior 4* Winner (2016)
National Championship's Bronze medal U/21 (2017)
Matt plays with Evolution MX-P and Tibhar Aurus Prime rubbers & a Powerspin Carbon blade
---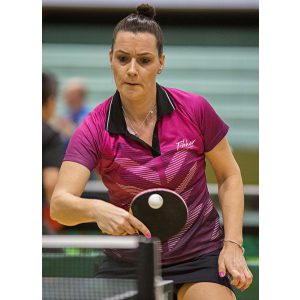 SARA WILLIAMS
Sara Williams was an English cadet and junior international playing for England on several occasions. As a junior her biggest achievement was winning the Spanish open.
After taking a rest from the game for over 20 years Sara returned to playing competitively just over 2 and a half years ago.  She has quickly risen to be the England Women Vets number 1 and is the current Vetts National Champion, 6 Nations Champion, as well as winning every Vetts Masters event she has entered over the last 2 season including the Western, Eastern, and Southern Masters!
She has represented Hertfordshire Vetts in the county Premier Division this year finishing the season with 100% record. She also plays for Ping Pong in the Vetts British Premier League where again she has a 100% record.
Sara is in her second year of sponsorship with Bribar. Sara uses a Joola Aruna off blade, Evolution MX-P on her forehand and Evolution MX-S on her back hand.
---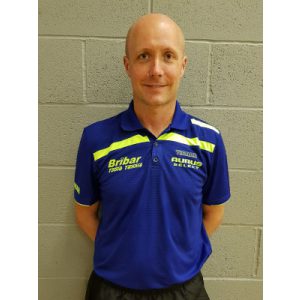 MARK SHORT 
We are delighted that Mark has joined Team Bribar!
Mark is a fairly new Veteran player who in his first year, won a clean sweep of Men's singles, Men's Doubles and the Mixed Doubles at the Northern Masters.
He also won the Men's Singles and Men's Doubles at the Western Masters, plus alongside his wife Sarah, the National Masters Mixed Doubles title!
Mark started the 17/18 season ranked no 2 on the TTE Veterans list and he plays with a TIBHAR CCA7 blade, with TIBHAR Evolution EL-S on the forehand and TIBHAR Evolution FX-S on the backhand.
---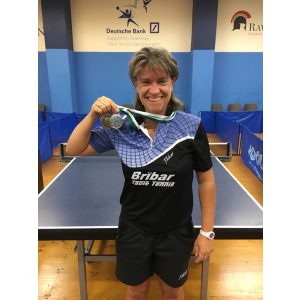 EMMA ROSE 
Former England No.1 Ladies Veteran – Emma had a good 17/18 season – peaking at the Veterans 6 Nations!
Emma has struggled over the past few years with a serious knee injury but continues to play the Veterans British League and at the Masters events. She is currently ranked No 8 in the country.
Emma plays with a Samsonov Stratus Carbon blade and Evolution MX-S rubbers.
---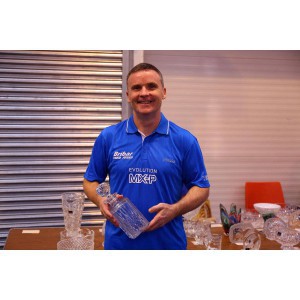 CHRIS BARTRAM 
Chris, a leading English Veteran player has joined the Tibhar/Bribar squad and plays with the Samsonov Stratus Carbon blade and Evolution MX-S rubbers.
Chris won the Men's Doubles title and came runner up in the Men's Singles at the Veterans Masters in 2017.
Unfortunately, Chris has had a serious shoulder injury this season and has been working hard to get back to fitness, in the meantime he has been helping to develop a new Table Tennis Club in Sidcup called Cleeve Park TTC.