JOOLA DYNARYZ AGR TABLE TENNIS RUBBER – Staff Pick!
---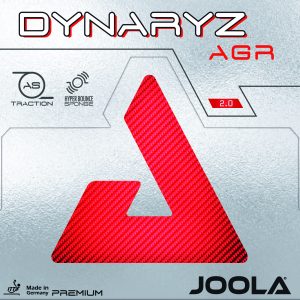 JOOLA DYNARYZ AGR is used by professionals at the pinnacle of their sport – if you want aggression, precision, high speed and amazing spin characteristics DYNARYZ AGR is the rubber for you!
The new signature purple 50 degree Hyper bounce sponge provides spectacular catapult effect whilst the Advanced Traction Surface Technology provides increased dwell time
resulting in fabulous spin characteristics.
The JOOLA 'Pro's' have been amazed at the advancement and been delighted at the directness, hard touch and increased spin and speed potential!
Cost: £69.99 £54.99
BUY NOW
---
JOOLA DYNARYZ AGR – a massive step forward for JOOLA performance. 
Our office No1 and aspiring Master Chef, Matt Leete, has been putting the new 'top of the range' AGR through its paces…!
Matt Leete, Technical & Sales Advice:
I have been using Dynaryz AGR for a little while now and I am really impressed. I am amazed at how much spin I can get with this rubber but also keeping a low trajectory over the net. This is ideal for spinny attacking strokes to stay low over the net and make it even harder for your opponent.
The speed from Dynaryz ARG is plenty fast enough but feels like it has so much more control that other rubbers I have used in the past. This is due to the new signature purple hard Hyperbounce Sponge which is the key to the dynamics of this rubber.
In this new sponge, the tension has been increased which produces a comfortable feel and touch, and the sound is very similar to fresh gluing.
I feel like on my serve I am gaining more spin which is making it harder for my opponent but the control is still enabling me to keep it nice and tight. Around the net, the rubber doesn't feel pingy or too fast, it is nice and controlled and easy to keep low and not allow you opponent in easily.
Matt Leete, Bribar Sales & Technical
Matt is a top level player in the UK and has been ranked at number 4 in the U/21's – he's also started to develop a coaching career – whilst waiting for the dreaded shoulder operation.
Now a veteran at Bribar, Matt gets to drive the vans on a regular basis and has learned to accept that Norwich Football Club are doomed to relegation!
---