Description
---
Read our Staff Pick on the JOOLA DYNARYZ AGR Table Tennis Rubber:
I have been using Dynaryz AGR for a little while now and I am really impressed. I am amazed at how much spin I can get with this rubber but also keeping a low trajectory over the net. This is ideal for spinny attacking strokes to stay low over the net and make it even harder for your opponent…
---
Imagine being able to equip yourself with a rubber that brings more spin and speed into your game without losing control!  What seems like a dream is now a reality with a huge advance in dynamism with the new JOOLA DYNARYZ range. The key to the advancement is two fold:-
ADVANCE TRACTION SURFACE  – a more friction-intensive surface structure was designed for increased grip. The extra dwell-time gives you more spin and precision for your game.
HYPER BOUNCE SPONGE – engineered with extreme tension and catapults the ball as soon as impact has been made. Be ready for increased spin, feeling, and dynamic shots.
---
Read Tom Lodziak's rubber comparison article on the latest Dynaryz, Rhyzen and Rhyzer rubbers!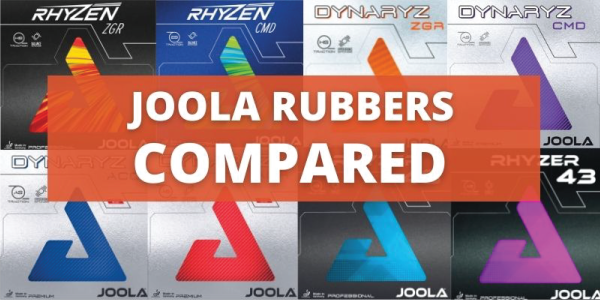 ---