TIBHAR AURUS PRIME RUBBER – Staff Pick!
---
TIBHAR Aurus Prime Table Tennis Rubber – An ideal choice for the offensive technical player who plays an attacking all action game and requires perfect ball placement!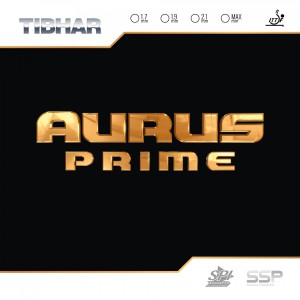 The smooth and spin oriented rubber surface combined with a middle hard, catapult loaded 47.5° sponge will enable the user, in almost any playing situation, to put the sufficient amount Our of pressure on their opponent.
With the innovative SSP technology (a thinner and smooth rubber surface combined with a thicker sponge), the result is a fast and catapult friendly offensive rubber.
The 'Prime' version of Aurus comes with our new and exclusive purple coloured sponge.
Cost: £51.99 £43.99
BUY NOW
---
TIBHAR Aurus Prime – an all action Staff Pick but why? 
Our newest member of staff, Matt Leete, plays with Aurus Prime – he's ranked No 4 nationally in the U/21's so it's working for him!
Matt Leete, Technical & Sales Advice:
'I currently use Aurus Prime on the backhand. I find that this rubber can generate lots of speed with an enormous amount of spin at the same time. There is great control with this rubber, turning a block into a counter/topspin becomes very easy and not much action is needed with this rubber.
I also find that controlling the ball against heavy spin with either a simple block or re-loop is far easier than any other rubber I have used in the past – I would say this is because of a thinner rubber surface matched with the thicker sponge.
Also when over the table, there is great control, easy to keep tight without the ball pinging off your bat!'
If I was to recommend a complete set-up with this rubber then I would recommend a Drinkhall Powerspin Carbon with Rhyzer 48 on the forehand and TIBHAR Aurus Prime on the backhand.
Matt Leete, Bribar Sales & Technical
Matt is nationally ranked at no 4 in the U/21's and at no 21 in the Men's – not only does he play the sport very well but he has real passion and knowledge with it.
He has just recently started at Bribar and is getting to grips with a really busy start to the season.
Unfortunately, Matt's office football 'dream team' has not had such a good start, currently languishing in 9th… we are now just avoiding playing him at Table Tennis!
---