Paul Drinkhall Exclusive Blog – Paul reflects on his Olympic games!
---
Our latest Blog is from Paul Drinkhall. We love Paul's honest take on his performances and he always gives us a real insight into what it's like playing at the highest level. Paul talks us through his Tokyo 2020 experience from keeping fit and motivated, training hard and getting match sharp, through to finding form and using all his experience to proceed in the event…
---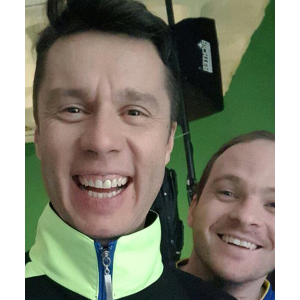 It's always a bittersweet experience when you compete at an event of the magnitude of the Olympic Games and perform well but without a huge amount to show for it – some Athletes are happy to qualify of course, but for me you go to an event to try to win, whoever else is in the event and whoever you run into.
For me this event was different to the last two Olympic Games I participated in, purely because up until a week or so before the event I didn't know if I'd be playing. I only just missed out on an automatic world ranking qualification place, and then was one match away from qualifying at the qualification event, which was a huge disappointment at the time. That said, I knew I was first reserve for the competition, and with injuries or even worse COVID maybe likely to occur in some athletes, I knew I had to be physically ready to seize the opportunity should it arise! In the end, my good friend and TIBHAR fellow sponsored player Vladi Samsonov was struggling with a shoulder injury that has plagued him for some time; he had announced his retirement due to this, which for me is truly the end of an era, he's an absolutely amazing player and a great guy also. This meant that I very quickly got the call to play, and after getting the nod from Team GB and Table Tennis England I was about to compete in my third consecutive Olympic Games.
In terms of preparation, I quite simply kept in mind that there was going to be a good chance I may be called up. This kept me extremely motivated in my practice, my physical work outs, and my mental preparation also. I worked on my speed and explosive fitness, I ran every morning, and stretched everyday also. One thing that experience has taught me is that it's important to switch off and relax also even when preparing, and my two children Dougie and Bonnie certainly have no problem in distracting me and helping me to switch off!
We were aware that due to COVID, this Olympic Games was going to look and feel very different to London 2012 or Rio 2016. Health and Safety and Social Distancing was paramount of course, we tested every day, and all the necessary precautions had to be taken; I wouldn't say that it spoiled the experience as such, but it was very different and we knew straight away that this wouldn't have quite the same atmosphere as previous games, mainly due to the lack of spectators allowed into the arena.
After a couple of days in the holding camp we were transferred into the Olympic Village, which again felt very different to previous games. It's such an honour and privilege to be a part of Team GB though, and that feeling was still strong in the camp despite the obvious limitations. Our preparation was good; we had some quality practice sessions together and some multi-ball with team coach Gavin Evans, mainly working on speed and 'sharpening up' exercises, just trying to find our rhythm, hit the ball well and concentrate on playing enough but not too much to be in peak shape for the event.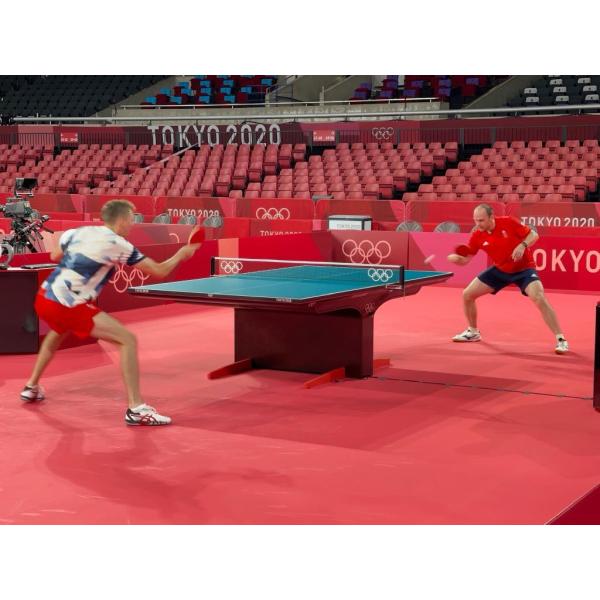 Paul knocking with Liam Pitchford in the main hall.
I felt good in the practice sessions. In multi-ball I was sharp, I felt quick, my timing felt great and I was certainly glad I'd kept preparing for the games even though I knew there was a chance I wouldn't play. One day I felt I was hitting the ball a little flatter than usual with less spin, so I worked on that with Gavin in multi-ball practice, but generally speaking I could tell I had a chance of finding some good form, which again comes with experience of playing in major events for many years.
My first match was against Nima Alamian, the Iranian. He's a little under ranked at 125, having been hovering around the top 50 just a couple of years back; he has a really nice game, he's a good athlete, and if he's hitting the ball well he can be a real threat. I wasn't too displeased with the draw, but I knew he couldn't be taken lightly, that's for sure.
The game was entertaining to say the least! Within the first couple of points, he was foul served by the umpires on his reverse service, which totally threw him off his game. The Olympics are always a little stricter when it comes to the service laws, but it's the lack of consistency that I think is the real problem. A player can serve in a particular manner all season, and then only be pulled or faulted in one match on one given day or even just by one umpire – it doesn't help the players at all, and it certainly didn't help his concentration.
He was faulted for throwing the ball backwards, which does actually help get more spin when doing a reverse serve, but I don't think that was his reason, it's just his normal action. I've learned over the years that in these situations you must step back and just remain focussed, let the player and the umpire have their disagreement, and simply concentrate on the next points to come. I felt I was playing well, and in the points that followed I was able to block out all the distractions and just concentrate on hitting the little white ball – always a good idea!
At the end of one game he was nine-one down and faulted and lost a point again, things became farcical at that point – I was still walking back to the table and he did a nothing serve, the umpire gave him the point… it's worth watching what happened next, lets just say I nearly had to duck!
He did mount a come back and started to push me, but I stuck to my tactics, found his middle time and time again and felt like I was hitting the ball well; ultimately in the rallies I was too strong and consistent, so I was able to close the match out over a potentially very dangerous opponent four games to one, and move into the last 64.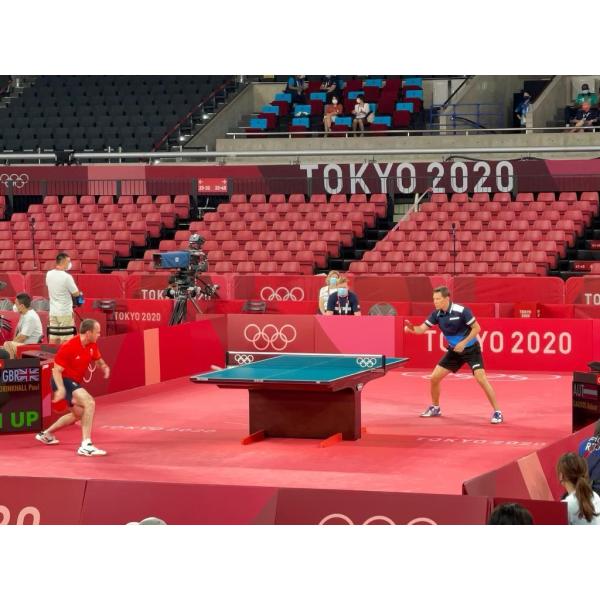 Paul takes on Robert Gardos world no 24
My next opponent was the Austrian, Robert Gardos, world ranked at 24. He's got a wealth of experience and like Timo seems to be getting better with age; he's an unorthodox player, very consistent, awkward, and not the type of guy you want to run into not playing well. He's the type of guy who doesn't have many bad losses, and you really need to work hard to beat him – he's actually a player I've never enjoyed playing against, and I've not beaten him before, but I wasn't thinking too much about that as I know that if I'm on form I can match up with him and beat him for speed and power.
I snatched the first end and then lost the second, but to be totally honest I felt in control throughout. I was moving well, his service wasn't causing me any problems, and I felt very focussed and confident. I easily won the third, scraped through the fourth at deuce and found top form in the fifth end, closing the match out 11-6. He's not an easy opponent and this was certainly different to my first match against Nima, but in the match when I knew I was playing well I didn't feel like I could lose as I had one of those games where everything seemed to be going my way. If only you could bottle that….!
My opponent in the last 32 was the South Korean Jang Woojin. World ranked at 12, he's a quality player, he has a great attacking game and he's a match for the very best, so I knew this wouldn't be easy. The last time we met a couple of seasons ago I had lost deuce in 7th after a massive match where I felt we both played well, so I knew what to expect and I think after seeing my match against Gardos he would know I was playing confidently.
I started well and won the first game 11-7, and although it's easy to say with hindsight, I think I should have won the 2nd end too after being 5-1 up. It's an example of how at this level, you have to be 100% focussed without taking your foot off the gas for even a second. He won the 2nd at deuce, and without doing too much wrong I lost the next three games 8, 8 and 7. I feel I was playing at a high level, the Koreans physically are always ready and you only have to look at their Olympic record over the years to know how they try to peak for the games; I think maybe I have one more gear in my game than I displayed in that match but I can't complain about my form, ultimately I've lost to a world class player after having my chance to go 2-0 up.
Pitch was unfortunate to exit at the last 32 stage too, he came up against a very dangerous player and the man in form in Darko Jorgic, who's young and hungry and has all the attributes to be a top world class player for many years to come. He's powerful, has great hands and a strong game, and I think coming into the singles event cold and running into a player like him who already had a 7 game match win under his belt against my old team mate Alvaro Robles from Spain is difficult. I felt Pitch never really 'got going' and lost over 6 close games – Jorgic showed what form he was in by beating Harimoto in the last 16, but Liam was still disappointed.
Overall, it's always disappointing to lose, but when you feel you have found form and given a good account of yourself, it's at least a little better than feeling that you've not been able to display your best against the top players the world has to offer. With the new ranking system being the way it is, there isn't much reward for my efforts, as despite reaching the last 32 and beating a top 25 world ranked player I haven't moved up in the world rankings at all – but maybe Ma Long should feel more hard done by, as despite winning the Olympic Gold for the 2nd time in his career and beating the world number one in the final, he remains at number 2!
---
Paul is a Bribar/TIBHAR sponsored player and has his own Signature bat available with an extra 10% off the offer price for a limited time only – check out Paul's weapon of choice!
---