S&T HELLFIRE X RUBBER – Staff Pick!
---
Hellfire X has been developed after 3 years of testing with top long pimple players under the direction of pimple maestro Sebastian Sauer. The result is a pimple that long pimple players want.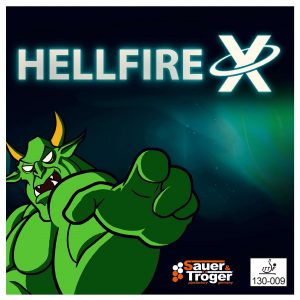 Hellfire X has been produced offering slightly more speed but even greater disruption possibilities. The OX version is ideal for a close to the table game and will allow you to dominate and upset your opponent. When defending away from the table your shots will be spin loaded and your chops will create havoc with your opponents.
Discover the supernatural powers of the Hellfire X!
Cost: £42.99 £38.99
BUY NOW
---
Why use S&T HELLFIRE X Long Pimples??
HELLFIRE X has a lot to live up to! What makes HELLFIRE X Barry's Staff Pick…?
Barry Chapman, Managing Director:
Having used the original Hellfire long pimples for the last 5 seasons I was intrigued to see how the long awaited X version from Sauer & Troger performed.
I tested it on a VICTAS Matsushita original blade and the results were interesting! Hellfire X came into its own when I was playing at the table and punching and pushing aggressively. The result was a pretty dangerous ball that wobbled and kicked – in match play I can see this pushing an opponent on to the back foot and possible mistakes.
Both aggressive pushing and lifting a chopped ball was easy with the Hellfire X rubber. Block chopping again was comfortable, however, with a high ball higher trajectory it certainly felt like this would be less awkward for your opponent then the original Hellfire as the spin reversal/wobble wasn't as much and the 'stop' less marked.
Meanwhile, classic chopping felt easy and consistent and whilst it did not feel as though a lot was on the ball it was surprising how much spin was produced and could be quite deceiving!
In summary, it's definitely an interesting option which will help combination bat players reduce the risk of being pinned down on the pimples and certainly a must for players who want to stay at the table and play a dominating long pimple game.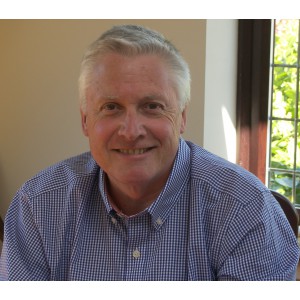 Barry established Bribar Table Tennis 35 years ago, overseeing it's growth into a major player in the UK Table Tennis market. Now approaching his 51th League season and 49th as a Local League Premier player, Barry is still a regular competitor in various Leagues in Kent and has played 'County' from Junior to Veteran level.
---