Designed for former speed glue players, who play a controlled, attacking game, but who still require excellent feeling and enhanced spin from their rubber choice. ENERGY X-TRA has in-built GREEN POWER feel, together with a grippy surface and a mid-soft 37.5 sponge – making this rubber ideal for a fierce counter spinning/loop killing game, and 'away' from the table' strategy.
Specs
Spin 113. Speed 96. Control 80. Thickness – 1.8/2.0/Max. 
Cost: £48.99 £39.99 
---
Why is the JOOLA ENERGY X-TRA Rubber a Staff favourite?
Having been our best selling rubber for the last 10 years and with customers keep coming back for more – what's so special about ENERGY EXTRA? Mike Chapman, Bribar Director, explains – 'The Joola Energy X-tra is a perfect rubber for attacking players who like the feeling of speed glue – the speed, spin and sound! Energy X-TRA allows you to play almost all the shots with CONFIDENCE… and that's the key to a great rubber'.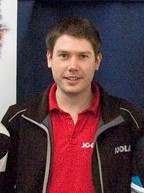 Mike Chapman, Bribar Director.