DRINKHALL POWERSPIN CARBON BLADE – Staff Pick!
---
The TIBHAR Drinkhall Powerspin Carbon Blade is the signature blade and the exact model used by Paul Drinkhall!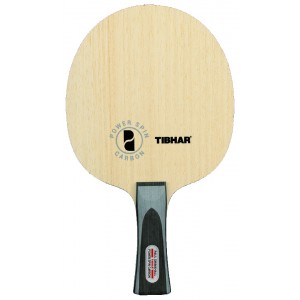 The 6 times National Champion helped develop this blade and say's:
"My blade gives me the speed I need for my fast, heavy topspin attacking game and the control required to receive, block and counter topspin well during the rally".
His requirements are specific – a blade providing balance and power both at the table and at mid distance for his aggressive spin game played on forehand and backhand wings. The blade needed to be exceptionally stable to ensure tremendous control and touch when playing a short game, despite the requirement for high speed characteristics.
Specs
Speed 95. Control 75. Weight 85-90g. Handle – An, Fl & St. 
Cost: £169.99 £129.99 
BUY NOW
---
Why is the Drinkhall Powerspin Carbon blade a Staff and Player favourite?
The TIBHAR Drinkhall Powerspin Carbon Blade is the personal choice of Paul Drinkhall – so not a bad recommendation but why would us mere mortals choose to use one?
Matt Leete, Sales & Technical explains in more detail why it's his pick…
'I currently use the Drinkhall Powerspin Carbon blade. I find this blade really comfortable to play with. It is fast during the attacking shots but also with the slower touch game around the net, there is a lot of control for a fast carbon blade.
With this blade you get a lot of feel and feedback on counter top spinning shots – I have used some blades where it is hard to feel the contact of the ball, but with the Powerspin Carbon, you can feel the ball hit and catapult off the rubber which gives you far more confidence in your shots and feeling when being positive in your game!'
'If I was to recommend a complete set-up with this blade then I would recommend the Carbon Powerspin blade fitted with Evolution MX-P on the forehand and TIBHAR Aurus Prime on the backhand.'
Matt Leete, Bribar Sales & Technical
Matt is nationally ranked at no 4 in the U/21's and at no 21 in the Men's – not only does he play the sport very well but he has real passion and knowledge with it.
He has just recently started at Bribar and is getting to grips with a really busy start to the season.
Unfortunately, Matt's office football 'dream team' has not had such a good start, currently languishing in 9th… we are now just avoiding playing him at Table Tennis!
---