JOOLA RHYZER 48 TABLE TENNIS RUBBER – Staff Pick!
---
The new JOOLA Rhyzer 48 Table Tennis Rubber has arrived!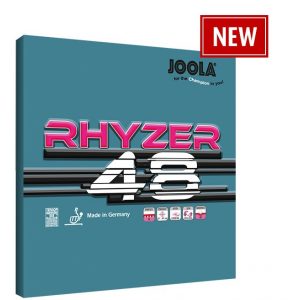 A superb rubber for strong attacking spin players – with a thin topsheet and the hard 48 degree sponge this new rubber has huge dynamics.
Out gun your opponent with dangerous winning loops and counter topspins without losing touch in your precision play…
As used by the Grand Prix King and Ping Pong legend – Chris Doran (England No.6)
Cost: £59.99 £49.99
BUY NOW
---
New JOOLA Rhyzer is the real deal! 
Richard's 'Staff Pick' has been a while in arriving but boy it's been worth the wait…
Richard Carden, Technical & Sales Advice: When it comes to the new technology of rubbers with a thin topsheet and thick sponge, no rubber has impressed me more than Joola Rhyzer 48.
The spin and grip are fantastic thanks to Rhyzer's spin optimized topsheet but the speed of the rubber is monstrous!! It is by quite a margin one of the fastest rubbers I have ever tried and you don't have to swing like a mad man to access this pace. Despite its raw performance Rhyzer 48's ease of use is what impresses me most.
Unlike some of the top rubbers you don't need to be the best player in the world to tap into Rhyzer's potential and believe me when I say there is a lot of potential. But, be warned this rubber is not for the faint hearted and a high level of skill will be needed to tame this rubber and keep the ball from flying long.
Rhyzer 48 is another step forward in performance compared to the previous generation of rubbers and in my opinion this is a rubber that has the potential to be extremely popular.
If you're looking for a rubber for maximum attack and you like smashing bombs from both wings you need to experience this rubber. You won't be disappointed!!
If I was to recommend a complete set-up with this rubber then I would recommend a Joola Rossi Emotion with Rhyzer 48 Forehand and Rhyzer 43 Backhand.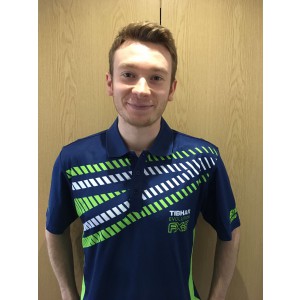 Richard Carden, is our resident Amazon and Ebay 'Guru' and 'Supreme Commander' of all things Technical & Sales. A good player, he is now fully fit from a broken ankle and making his way (slowly) back to his top 100 ranking. Richard is the Current Canterbury Champion and plays in a number of leagues, County and British league.
---