TIBHAR LEBESSON TABLE TENNIS BLADE – Staff Pick!
---
The blade of the 2017 French National Champion and 2016 European Champion, Emmanuel Lebesson.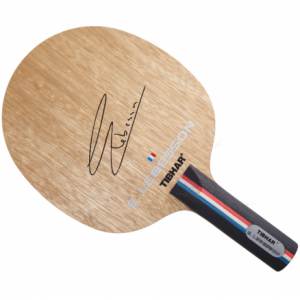 Designed for a modern, athletic all action counter game typical of modern French players.
A 5 ply all wood blade built from limba and ayous wood plys which will always keep your opponent under pressure with uninterrupted action.
The extra hard inner veneer provides the necessary speed for loops and smashes, and the softer outer plys enable you to control your opponent's biggest shots.
A real bargain blade – you should give it a try – it's not as hard as you think!
Specs
Speed 84. Control 76. Weight 85g. Handle – An, Fl & St. 
Cost: £42.99 £34.99 
BUY NOW
---
Why is the Lebesson blade a Staff and Player favourite?
The Lebesson is the personal blade and choice of the French National 2017 and European Mens 2016 Champion Emmanuel Lebesson, a sure sign of quality!
Phil Thomas, Sales, Technical & Logistics Team explains in more detail why it's his pick… 'The Lebesson is the successor to the hugely popular original grey handle Samsonov Alpha and had a lot of expectation to live up to when it was introduced to the market. Tibhar have pulled it off though as it is currently one of the best value 5ply, OFF- blades available on the market. The blade delivers the perfect blend of Speed, Control and Ball feeling especially in conjunction with the Tibhar Evolution Series. This is down to the use of Limba & Ayous woods within the blade construction. You feel every ball onto the blade and really have the confidence to play whatever shot you want to. It slightly differs from the Samsonov Alpha by offering a bit more flex. This makes it better for players who prefer to play loops/topspins. Having said this, it is still amazing blade for blocking/hitting at the table. A real bargain blade and definitely worth a try! '…
'If I was to recommend a complete set-up with this blade then I would recommend the Lebesson blade fitted with Evolution MX-P Forehand and Evolution EL-P Backhand.'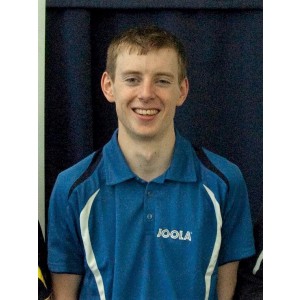 Phil Thomas, Bribar Sales, Technical & Logistics
Phil has been involved in Table Tennis for 15 years, playing at a Local, County & British League level. Ton's of knowledge and experience in Table Tennis, Phil has recently ticked off a number of goals on his 'Bucket list'… A photo with Bernadette Szocs, an interview with Table Tennis Daily (watch video clip at 14.43) and seeing his beloved Chelsea playing walking football!
---