Paul Drinkhall Exclusive Blog!
---
Our latest Blog is from Paul Drinkhall, who like other top players is back in action – not jealous at all! However, it is not always as glamorous and straight forward as it seems – in this Blog Paul tells us about his experience starting back in the strong French Pro A Championship.
---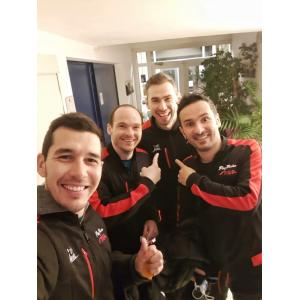 'As I flew out to France with a two-week trip ahead of me, I was not quite sure how things would go, France was in lockdown and it was highly likely that travel, eating and training would be much more difficult than normal.
Even so, I was looking forward to meeting up with my team-mates from my new club Jura Morez. They are Kirill Skachkov (World no 54), Bojan Tokic (World no 66) and Benedek Olah (World no 85) – not a bad team and just goes to show how strong the league is!
The club had rented an apartment for us for the duration of our stay and this meant that on a lockdown basis we only had to worry about trips to supermarkets and the varying quality of our home cooking – managing to survive this for two weeks was an achievement in itself!
In terms of the playing schedule, we had four matches over the two-week period:
The first match was a home tie against Saint Denis. We have a strong team in depth and our coach has the ability to mix up the order – in this case he put me at no.1 for the team, so I was first on against Mehdi Bouloussa and then if it was needed the often-crucial 4th match. On this occasion, we needed to secure the fourth and I was pleased to win both of my matches, with the second win against Alexandre Cassin. The team had a good 3-1 win, our first of the season and hopefully this would kick start our campaign…
Our second match was a few days away, so this gave us some downtime and the chance to go on a really nice scenic walk with some much-needed fresh air!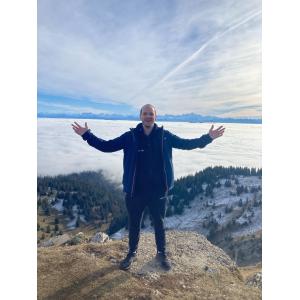 Next up – our second match was an away leg against Les Loups D'Angers, here we would usually have a short drive to Geneva airport (1 hour away from the club) and take a flight landing much closer to the away venue, however, with the restrictions in place, the flights were cancelled. We had a difficult decision to make, either do the seven-hour car journey in one day or split it into two days…. we opted for the long day meaning more time in our apartment to recover following our first match.
On to match number 2 and this time I played at no.2, this meant I would play against their no.1 in the first match on, unfortunately on this occasion I lost to Jon Persson 3-1, although a bit disappointing, my team-mates won their matches, and I was pleased that the team pulled through for a 3-1 win!
After the long trip "home" (made a lot easier for the team with a win) we decided to take the next day as recovery day, and this time we opted for a longer mountain walk which gave us amazing views across other mountains in the range and to top it off – we could see Mont Blanc in the distance!
We were looking to keep the winning momentum up for the third fixture on the trip. This time we were up against La Romagne, this time I played at no.3 for the team, meaning I would only play once. As the match played out, I went on with the team 2-0 up so I had a chance to win the match for us. I am pleased to say that I played well and had a strong 3-0 win over Romain Ruiz to secure the match – now we really could feel the momentum and confidence building within the team!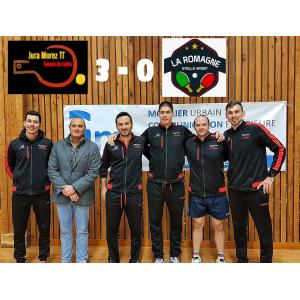 Now we were on the final straight with the last match to play against Villeneuve Sur Lot. We had a three-day break which was an important time to keep active both physically and mentally but not overdoing it, we yet again took one day for recovery after the match with a light gym session, the day after that just had one practice session with some longer stretching and then it was match day…
With such a strong squad, it was now my turn to 'sit one out', as always, I am keen to play but my body welcomed the rest! We have a strong team, and we are lucky that we can keep switching our players around, the team did a great job and won the match 3-0.
After the match in France, it is a tradition to have food with the opposition team which we did, followed by a relaxing couple of hours with a glass (or 2) of wine, it was a good moment to build team spirit and to reflect on the success that we had as a team over the last two weeks…
It was now time to travel home to my family, I am always really looking forward to this moment and I could not wait to get home and see everybody, we are also currently in the middle of moving to a new house, so we are hoping to get it all sorted before Christmas!
I hope you all have a great Christmas and a Happy New Year – see you all in 2021!'
---
Paul has three remaining fixtures in the first half of the Pro A Championship they are the 20th December and then in the new year the 9th and 12th January. Currently his team are in joint first place with a game in hand!
Catch up with Paul's matches on the French Federation YouTube
Follow the French Pro A League
---