MIZUNO WAVE DRIVE 8 – staff pick!
---
Mizuno Wave Drive 8 2019 – as worn by World Class players who want low to the ground shoes designed for quick movement.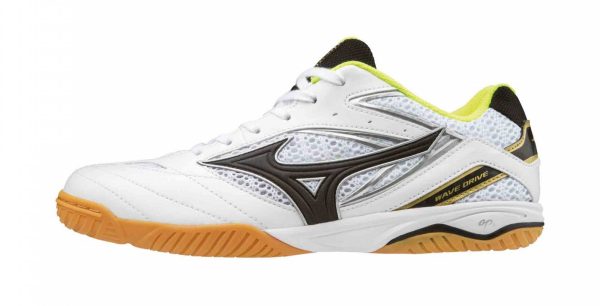 Mizuno Wave technology delivers superior cushioning and superb support
Microfibre artificial leather on the forefoot section provides a durable comfortable fit
Optimal cushioning, lightness and superior grip
---
Mizuno Wave Drive 8 2019 – as worn by World Class players and Matt Leete!
I think most people would agree that in our sport good footwork is essential – so wearing top quality shoes can only help – our office No1, Matt Leete, tells us why it's Mizuno's for him!
Matt Leete, Sales & Technical Advice:
Table Tennis footwork is crucial in our sport and is an element that is often underestimated. In my playing career and more recently, coaching activities, I have always looked to wear the best shoes I can. In my opinion – Mizuno are the best.
I don't think I am alone in that opinion, many of our customers enjoy wearing them and of course – many of the best players in the world wear Mizuno's – but why?
Mizuno have definitely been developing their technology year-on-year and a new model of Mizuno's has 'tried and tested' innovations in comfort, support, shock absorbing, cooling, and grip. My current favourites are the Wave Drive 8's (2019) – they are light and comfortable to wear, have all the Mizuno tech and are not too loud on the colour front!
---
Matt Leete, Bribar Sales & Technical
Matt is a top level player in the UK and has been ranked at number 4 in the U/21's – he's also started to develop a coaching career – whilst waiting for the dreaded shoulder operation.
Now a veteran at Bribar, Matt gets to drive the vans on a regular basis and has learned to accept that Norwich Football Club are still a very average team!
---