VICTAS Blog Pt2 – Blade Technology!
---
VICTAS Table Tennis equipment is a premium Japanese brand as used by England No1 Liam Pitchford and top Japanese players such as Koki Niwa and Koji Matsushita. In this 2 part blog we look to introduce you to the key products in their line up, the technology they use and how to identify the best product for your game!
---
VICTAS Blade Technology
In this Blog, we are going to look at some of the synthetic carbon tech that VICTAS use in their blade construction and how they measure the 'Resilience' of each of their blade models – to us that means Speed, Control and Feel!
Currently Bribar stocks 18 blades from VICTAS on our website and they range from super-fast to super-defensive! For the purpose of this blog, let's focus on three blades for high level attackers, the latest innovative ZX-Gear series with lots of technology plus four Matsushita blades for those of us who like to 'mix it up' and play defensively.
Technology
VICTAS use a mixture of nine types of high-tech synthetic carbon in their series of blades – there are plenty of options! From the very hard V-Carbon through to a super elastic Z-fibre. Each carbon fibre has it's own characteristics with some being woven whilst others have added elements and mixes of weave!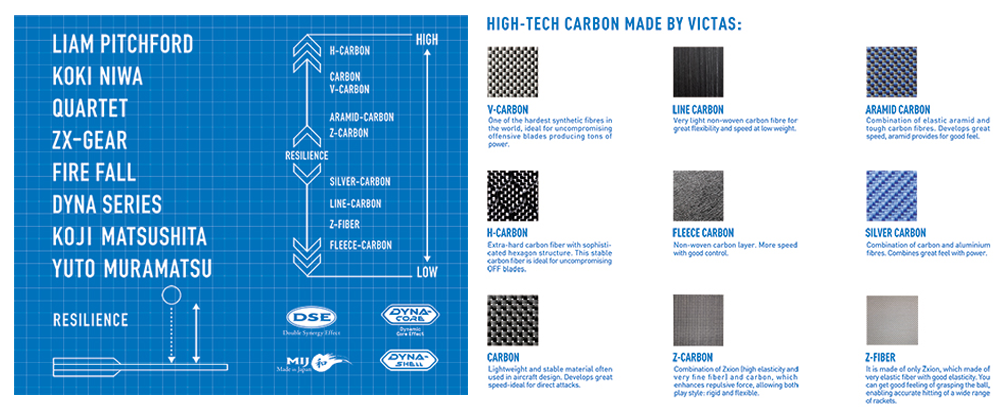 The three key technologies used in the blade series are:
DSE (Double Synergy Effect) blades have four synthetic layers of carbon.
DYNA-SHELL blades have a synthetic carbon layer directly under the outer ply.
DYNA-CORE blades have a synthetic carbon layer next to the inner veneer.
VICTAS rate their blades in terms of 'Resilience' – depending on the type of Carbon and where the Carbon is situated – this has a real effect on the speed, control and feeling of the blade!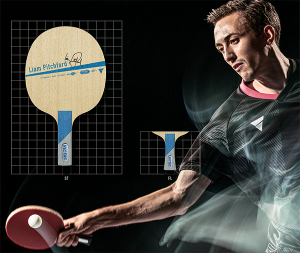 Liam Pitchford Blade
As you can imagine Liam uses a fast blade. In Liam's blade there is a synthetic Z-Carbon which is a combination of the elastic Zxion carbon plus a more rigid Carbon. The Z-Carbon sits just below the top ply of the blade to give extra impact energy on the ball – VICTAS refer to this technology as DYNA-SHELL.
For more details on Liam's Blade and to watch his thoughts on it – visit here.
Koki Niwa Blade(s)
Japanese Superstar and legendary 'chop blocker', Koki Niwa has two VICTAS blades to his name. Firstly, there's the 7ply 'Wood' version where VICTAS have used all their experience to combine traditional wooden ply's for today's modern attacking game.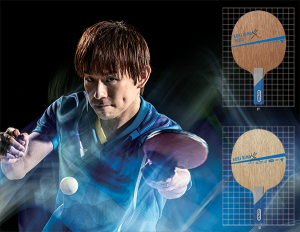 Secondly, his 'Signature' blade has the latest DSE (Double Synergy Effect) technology – this creates a blade that's geared for counter-topspin, aggressive and extreme spin variations all at mid-distance from the Table. This time the Carbon Layers are Aramid/Fleece Carbon.
For more details on Koki's Niwa blades – visit here.
ZX-Gear Series
If all out aggressive speed is not your style, then there's a series from VICTAS that has the latest technology but is designed to be more accessible for offensive players!
The ZX-Gear series offers the extra energy from Carbon layers but has more control. As with Liam's blade, the ZX-Gear IN and ZX-Gear OUT has the Super Elastic Zxion Carbon. The difference being where the carbon sits – with the IN it is placed near the core (DYNA-Core) and with the OUT it's below the surface ply (DYNA-SHELL) – EASY! Both have the extra energy of the Zxion Carbon but it's greater in the OUT model…
To check out the ZX-GEAR IN and OUT plus the FIBER model – visit here.

Koji Matsushita Series
Koji is one of the best defensive players to have played the sport, with medals at the World Championships 1997 (Doubles) and at the 2000 World Team Championships – he certainly knows how to defend! As with all VICTAS blades they are a premium product and his series of blades uses a blend of high quality traditional ply for excellent feel and control.
VICTAS measure their defensive blades with the usual Speed and Control but also on Vibration. There are four blades in the series from his 'Original' blade, the 'Special' with Fleece Carbon, through to the 'Defensive' blade with superb control and on to the 'Offensive' that's set up for the modern defender who looks to attack where possible…
Check out the Matsushita series here and to compare the blades view here.

Summary
Hopefully, this blog has explained a little more about how VICTAS have approached their blade series. In-particular how they mix traditional wood veneers, with a wide number of different carbons and how ultimately where it is positioned in the construction makes all the difference!
You can view our full stock of VICTAS blades here.
---
It's sometimes difficult to compare new blades and to take the plunge, and to this end, we have recently updated our Blade and Rubber charts to be be more interactive.
You can now narrow your search by make, type of player and budget. Even if you are not looking to change equipment right now, it's always worth checking out the latest kit that could potentially suit your game!
---