We chat to PingPong4U – helping disadvantaged groups with Table Tennis
---
In our latest Blog spot we chat to Peter Thompson at PingPong4U about his fantastic programme of adapted Table Tennis activities for disadvantaged groups. It's always great to hear how our sport can be beneficial to a wide range of people and in this case help with social isolation, exercise and improving personal wellbeing.
---
What are the main aims of PingPong4U?
'We use adapted Table Tennis games to support disadvantaged groups in deprived areas including BAME, refugees, disabled, inactive groups, girls and women, suicidal men and so on…
We hope to bring fun and enjoyment through playing Table Tennis, by breaking down social isolation for many lonely people and by encouraging exercise, even if it's gentle, it still has enormous benefit.'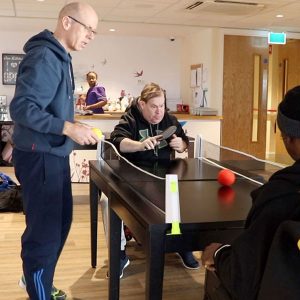 Where do you deploy PingPong4U?
'Ping Pong4u's work takes place in some of the most disadvantaged areas in Leeds, Bradford and increasingly wider afield.
We've been largely based on face to face delivery in a wide variety of settings including care homes, community centres, hospitals and hospices, however, we are currently working on an 'at home' basis.'
How does the scheme work?
'We've purchased high quality Table Tennis based equipment that we have "bagged up" into small bags for use at home by people of all ages and abilities
We have also made (shortly before Lockdown) some short snappy videos that show how to play a range of Table Tennis adapted games at home that people can access online.
We have produced an A4 Poster that shows how to set up a range of our adapted games, this is especially useful for those who find it difficult to use the internet.
We have been in working with a number of partners locally and further afield, including Table Tennis England, Street Games, Leeds City Council, Leeds Community Foundation and various Charities to tell people of our modified offers and methods of taking our games into peoples' homes in the form of small bags and giving online webinars and YouTube support.'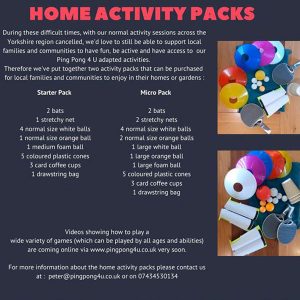 What was the inspiration that got you started with PingPong4U?
'I am from a Table Tennis family, although I was by far the worst player in my family. When I finished working as a head teacher, I guess I returned to something I did when I was very young, Table Tennis, the greatest game in the world!
I worked with Sally Shutt (Table Tennis England) and I got a job as PING! Activator in Leeds and Bradford. I enjoyed working with the harder to reach groups in deprived areas, the elderly the disabled, young people and families. I devised some simple games that anyone can play on any table.'
Can you explain a bit about the training package and the kit used?
'The training package is for staff/carers who want to know how they can get their group to play, whether they are in a hospital bed or a blind person in a wheelchair or a keen young child in a block of flats.
We usually run the training session at an "ordinary" venue, using ordinary tables and chairs, but now we are offering on-line training including short snappy videos accessed through a password on-line and we are just about to launch our dedicated YouTube channel!'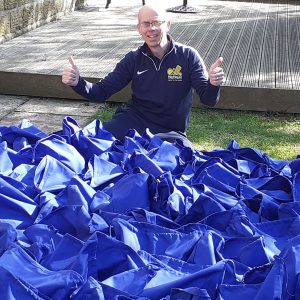 How many groups and how many kits have you delivered so far?
'We have so far delivered to 59 groups in Leeds and the Bradford area, we have 81 more to give out in Leeds and if we are successful with some of the grants that we have submitted we – will be handing out more and more. Bringing more PingPong4U fun to lots of people and putting smiles on their faces.'
If deliverers/organisations would like to get involved, do you have a date for your free webinars?
'The webinars so far have been through Table Tennis England and the next one is in Partnership with Street Games and JUMP (Bradford) who have purchased over 50 bags for families in the city. Once our YouTube channel is up and running this should help to get new people involved.'
What are the plans for the future roll out of Pingpong4U?
 'We want to attract more funding to be able to make up more "goodie bags" and get people more active at home at the moment and then in time (hopefully) they will be full of enthusiasm to grow their interest for many years to come!'
---
Be sure to check out the Pingpong4u website and you can watch these short videos to see some of the work that Pingpong4u do on a regular basis:
https://www.pingengland.co.uk/the-power-of-ping-seacroft-grange/
http://www.pingpong4u.co.uk/video/
---