Top Edge & Gertsen Training Camps!
---
Top Edge and Gertsen Training Camps – are really popular and well attended training weekends run by Craig Bryant and Stephen Gertsen. In this blog, Craig gives us an insight into their plans for the future and the up-coming London Training Camp.
---
Time flies! We are now onto our 5th training camp after trialing the camp in Horsham back in 2016 – since then we've had successful camps in Dorset and St Neots and now we're coming to London!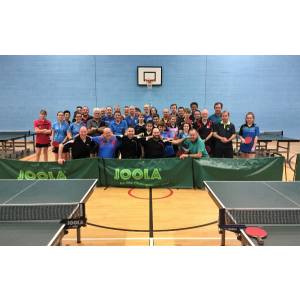 Our last 2 camps at St Neots and Dorset were completely full (all 99 and 105 spaces taken over 3 days, respectively) and we've been over the moon with the response and feedback that we've been receiving.
We are pleased to offer our training camps to all ages and abilities and we're delighted to say that we attract players from all over the UK. We even had our first international player come and train in Dorset, from France. We've also had enquiries from Germany but unfortunately we were full at the time. This is what we're working towards, we want to make each camp better than the last, increase the diversity of the players and help players work towards achieving their personal goals.
Steve and I have known each other since we were young, we're good friends and have similar visions. Our relationship, understanding and rapport comes across in our camps and we think, that is one of the things that sets us apart from the rest.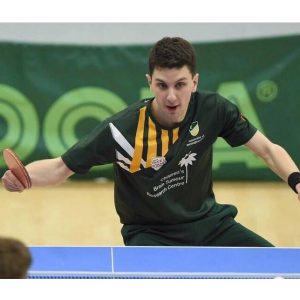 Our London Camp has been advertised for just over a month now and we've had a great response, not just with numbers but the level of the players, being notably higher as well. We also have an additional coach joining us for the weekend, England International and Commonwealth Medallist, Danny Reed. Danny is a busy guy, so we're really pleased that he's made time to be a part of this camp.
Coaches involved in this camp are: Craig Bryant, Stephen Gertsen, Carl Prean, Daniel Reed, Maria Ingles, Mark Dare and Phil Walker. All incredibly experienced with countless credentials, from former WR 18, to Commonwealth Medallists, to Coach of Year and much more….
We're really looking forward to seeing what London has to offer and we're looking forward to working with some returning customers, as well as some new players as well!
We're already approaching 60 places being filled, over the 3 days, with players booked on from; London, Surrey, Kent, Sussex, Hertfordshire, Essex, Bedfordshire, Cambridgshire, Hampshire, Buckinghamshire, Berkshire and even as far as Cardiff and County Durham!
---
St Neots Training Camp
Dorset Training Camp
---
For more information about our London Camp or to download a booking form, click the image below: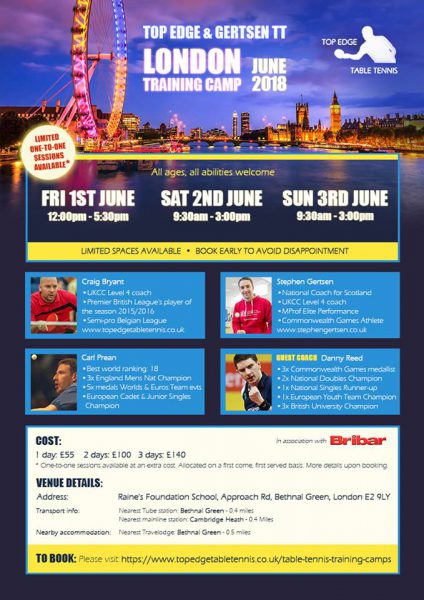 ---