Paul Drinkhall – World Team Championships Blog
---
How do you write a review when you miss out on a medal at such a prestigious event? The answer is… with some difficulty! It's mixed emotions for me and the other boys in the team. We have absolute belief in ourselves and in each other that we can raise our games when it matters, and I think we showed again that we can!
BELARUS
We felt like a steam train in the group matches… once we got up to speed the momentum seemed to be with us and we all played so confidently. Getting a first win can really set the tone, and we fought hard against Belarus to get that – two 3-2 wins for me and Liam and a 3-1 win for Sam set us off on exactly the right path. At that early stage you're finding your feet, playing yourself into form, and feeling your way into the competition, and getting a 3-0 is a huge bonus that we probably weren't expecting.
CHINESE TAIPEI
Chinese Taipei was an even bigger challenge, but we were fired up for this – going two nil up with victories for me and Liam certainly helped settle us and also put them under pressure from the offset. Their heads went down after the first game when I beat their number 1 Chuang Chih-Yuan, my old Bundesliga team mate from Germany… he's been the back bone of that team for so long, and Liam then played a blinder against Chen Chien-An to put us 2-0 up. Sam was unlucky to lose to Lin Jun-Ju who Is a class act, but we'd already smelt blood and Liam was out of the blocks like Usain Bolt against Chuang and there was no way in the world he would let a 2-0 lead go in that situation!
JAPAN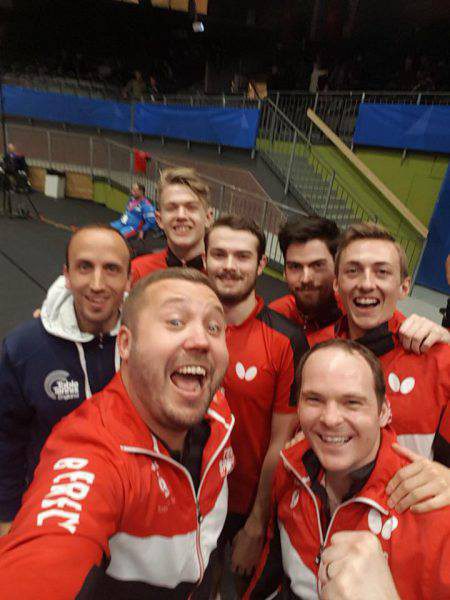 Going into matches against a team like Japan are always difficult but those are the big games you train and play for. On paper matches like that look like big upset, but really the players at our level all know what each other is capable of. I beat Mizutani but lost to Harimoto at in the T2 APAC league this year, and Liam beat Harimoto at the Men's Team World Cup and has beaten Koki Niwa before so we know that we are up there with them.
I was disappointed to not get us off to a winning start after leading 2-1 against Mizutani, he just never knows when he's beaten. The world rankings are still settling down after the sweeping changes brought in for the start of this year, but in reality Mizutani along with Dimitrij Ovtcharov are the two best players in the world outside of the Chinese National Team and he's such a massive fighter and a real player for the big occasion.
Liam was on fire against Harimoto, who we thought would be better prepared this time for him – thankfully not, and to beat a player of his calibre three games to nil shows how well and confidently Liam is playing at the moment. Sam really stepped up to the plate to beat Koki Niwa, who's a class act; we knew we had them rattled at this point, that was one they weren't expecting but after seeing some of the wins Sam has pulled off in the team event over the past few years it certainly doesn't surprise me.
Pitch against Mizutani was one of the matches of the tournament for me, certainly from a spectator view point and both teams were on the edge of our seats! Liam threw the kitchen sink at Jun but he's so, so good at soaking up that type of pressure. He feels his way into the match, he handles pressure so well and before you know it he's counter attacking away from the table and playing blinders consistently; I've seen him get on top of people so many times when he's been behind and win the psychological battle which at this level is so, so important. Thankfully Liam wasn't to be shaken and got a lead in the fifth and kept his nose in front to pull off a great win and see us home!
BELGIUM
We knew going into our game against Belgium that the pressure was a little off us as a team, we'd already won the group and had a bye to the quarter finals, but obviously we didn't want to slip up. Liam looked sharp and got us off to a good start beating Florent Lambiet 3-0, before I lost to Cedric Nuytinck who I know well from my time in Belgium; he's very capable, his level is around top 40 in the world so definitely no pushover. Thankfully Sam put in a professional performance to beat Robin Devos and finally, Liam sneaked the first game 16-14 against Nuytinck before stamping his authority on the game and we were home safely 3-1.
SWEDEN
And so onto the quarter finals… Sweden playing at home in Halmstad, and boy were they pumped! It wasn't a bad draw by any stretch of the imagination but we'd have rather of faced Austria or Brazil given the option, we thought the momentum and confidence was with us, but credit to the Swedes they took the home advantage and ran with it, and played brilliantly.
I lost the first just to Kristian Karlsson, and kicked myself in the second after being 7-3 up and losing – this is when the momentum works against you, and it was most certainly with the Swedes. I battled in the third but couldn't find enough form to take the game, all credit to him as he was playing really, really well.
Liam against Mattias Karlsson was a difficult one to call; Liam had played so well but Karlsson very different, he's difficult to play (he's one of the very few world class male players to play with short pimples on his forehand side) and has something quite different and that can throw you off slightly; after a real battle he got home 11-9 in the fifth and one look at the Swedish bench would tell you they were absolutely desperate to get over the line for the victory in front of the home fans.
It was left to Sam to try to kick-start the comeback, as he has done before of course but Jon Persson playing at 3 for Sweden had a fantastic event and was in great form, and was very confident as he'd beaten some great players in the group stages. Sam fought after going 2-0 down and only just lost the 3rd at deuce, and that was it… Sweden were celebrating and through and we were left rather shell shocked and bitterly disappointed.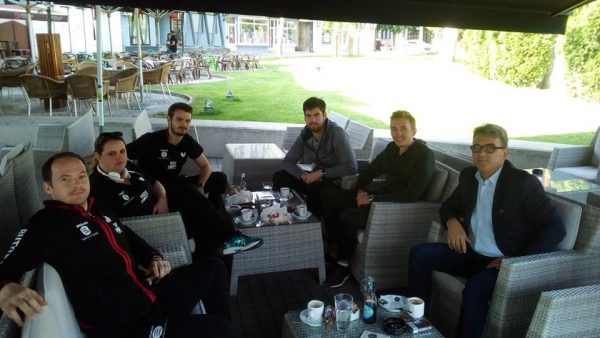 On reflection, it was a great competition with a hard ending; we were very, very hopeful of winning a medal and we knew if we played well it didn't necessarily have to be a Bronze like last time. To beat Chinese Taipei and Japan is great but it's the business end that really matters and we have to give the Swedes credit for rising to the occasion in front of their home crowd, as hard as it is to swallow.
We come away disappointed but with lots of plus points and the team – myself, Liam, Sam, David McBeath and Tom Jarvis from the bench, all know what we have to do to improve as a squad to get to that next level…
---