Paul Drinkhall – Wins ITTF Serbia Open – Exclusive Blog!
---
It's never a chore when my friends at Bribar Table Tennis ask me to write up a report of a competition I've played in, but when you finish stood on top of the podium it's a real pleasure!
I posted on my Facebook a few days ago about my victory in the ITTF World Tour Serbian Open; to say I was pleased with my performance would be an understatement. My form has been a little up and down this season, so it's nice to play like that and find some consistency. I've had some good results representing my club in the Bundesliga in Germany, but in World Tours and International Events I've had a tricky time finding my best form.
I've felt good in training recently, so going into the event I was quietly optimistic. I could see that I had to play the top seed Stefan Fegerl, the Austrian who is world ranked at 61 in the last 16 – Stefan has suffered from a similar problem that I have in terms of the world rankings. The system has changed entirely this year and it will probably take a season or two for things to settle down; at the end of last season he was ranked at 19, so I knew this would be a very tough game.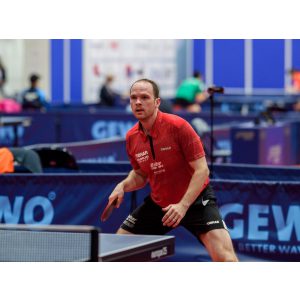 A promising start!
I managed to win my first couple of matches fairly comfortably on the Friday, I felt solid and won 4 – 1 and 4 – 2, which was a nice way to play myself into the competition; I'd practised in the venue the night before with Sam Walker to try to get used to the conditions, but a first match can be so important in terms of getting a feel for the tables, flooring etc.
The Saturday morning was a little disappointing – myself and Sam lost in the doubles to qualifiers the Hungarian Bence Majoros and the Dane and Tobias Rasmussen, they played a good match but we never really got going and lost 3 – 0.
I was scheduled to play Fegerl at 1:00pm, so I practiced a little and rested up before lunch, as I had a feeling this could be a long tussle. He never gives up, he's a real worker and is good mentally, so it's never an easy match against him. We're a similar age so we've played at various stages in our career and know each other's games well, so there definitely wasn't anything unexpected going into the match.
In those situations I try to focus on playing my own game and finding my rhythm rather than thinking too much tactically; like I say above, we know how each other plays, we know each other's individual strengths and weaknesses,  so in that type of situation I rely on instinct a little more and try not to over think tactically.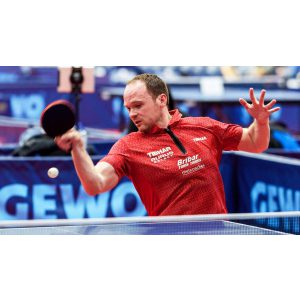 A tough fight…
As I expected, this was a real fight. I won the first, Stefan the next two, me the fourth at 11-9 (too tight for comfort!!) and then he played very well to win the sixth end 11-2. Approaching the deciding seventh set was critical mentally – he'd just ran away with the last end, he's confident and has the momentum going into the decider. I thought of it as a completely fresh match, the first set, and told myself that nothing that had past in the last 6 ends could have any effect on this set.
My mindset paid dividends in the end, I concentrated on being very positive and tried to pay extra attention to receive his service as well as I could. I was getting in behind my own serve with my attacking game, it's something I'm comfortable with so I decided to make life as difficult as possible for him when serving; he made a couple of errors, and I managed to take the set 11-6 and the match.
Quarter final match
My last match of the day was the quarter finals against the young Japanese player Shogo Tahara. He's only 18, a real unknown quantity and looked dangerous, and he'd beaten Sam so I knew he was a good player and I had to tread carefully. Luckily I found my flow very quickly, I felt quick and sharp and managed to win 4-1, which I was pleased about – playing two marathon seven set matches is no problem physically, but if you can win quickly and rest up for the next round that's even better!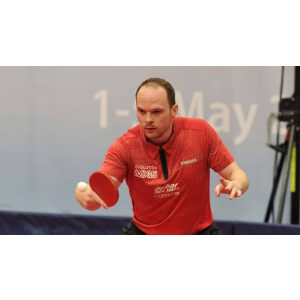 Into the Semi's…
The Frenchman Andrea Landrieu is another player I'm not overly familiar with. He was up around the top 100 mark in the world rankings last year, and I'd seen him in the round before and looked to be playing well; I approached this match differently, I tried to think a little more tactically and work out any weaknesses in his game I could exploit.
I started the match so well, I couldn't believe how quickly the first two ends went; I concentrated on being as positive as I could and taking the ball early if at all possible, as to not let him settle. I'd obviously had my Weetabix and won 11-2, 11-3 before Andrea remembered he was in the match too and won the next three ends, before I woke up and won the last two ends 4 and 5. Topsy turvy doesn't even cover it, this game was up and down like a yo yo!
The final!
And so to the final. Abdel Kadar Salifou is another player who's fell foul of the new ranking system, and he's chronically under ranked at 465 in the world – in 2018 he was number 83, quite a difference! Fortunately he's very well known t
o me, we're the same age so I played him as a cadet, a junior, an under 21… he's always been a worthy opponent.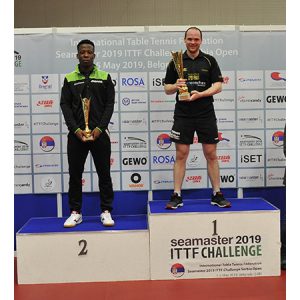 He's an extremely athletic player, a great mover and his forehand is very, very dangerous; if you don't keep that weapon quiet, you'll find yourself in all kinds of trouble. The first two ends were actually very tight, and he nicked them both 11-8 and 12-10; I felt I was so close to finding my range, things were just ever so slightly off so I was confident but at the same you don't want to go 3-0 down to anyone, never mind a very confident Frenchman who's got a point to prove on the ranking list!
The third end was too close for comfort, but I pinched it at deuce and from there I never looked back. This season I've found that form for my club but I've been frustrated at how close I've came internationally to just be a couple of ends away from playing very well. In the fourth end I clicked, I was seeing the ball clearly, receiving service very well and getting in consistently behind my own service with the first attack. I was taking the ball earlier and earlier, and I won the next three ends 11-3, 11-2 and 11-1, leaving me delighted and Salifou pretty shell shocked!
This adds to the World Tour Spanish Open title I won in 2015, which I think is a good reward for the hard work I've put in this year and the near misses that have frustrated me over the last few months.
---