New Premium Blades from VICTAS
---
Just arrived at Bribar are two new 2017/18 blades from VICTAS. A superb offensive blade from Japanese superstar Koki Niwa (World no 13) and a special defensive blade from ace defender Yuto Muramatsu (World no 28).
VICTAS have a reputation for mixing the latest technology with premium materials to create beautiful Table Tennis blades!
---
Koki Niwa VICTAS Blade – New for 2017/18 season – limited pre-season stocks available.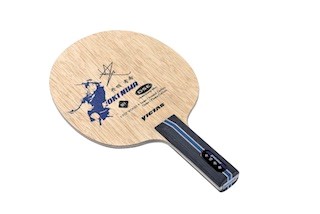 Outstanding Japanese player Koki Niwa is well established among the World's top players and has been the leading contributor to the design of this premium product – this fine offensive blade is perfect for creative, close-to-the-table power Table Tennis!
The innovative DSE Blade Technology featuring two built-in synthetic High-Tech fibres maximises energy transfer into the ball. This feature enables high risk counter-top spins with an aggressive trajectory and extreme spin variations in serve-and-return situations.
The reinforced core ply combined with the power of the inner aramid carbon fibre is just perfect for fast mid-distance topspin rallies with optimised stability in extreme situations. The outer, very elastic Fleece Carbon provides excellent feel and great spin generation.
VICTAS Koki Niwa is the ideal OFF blade for modern attackers.
Weight: approx. 88g
Handle: FL | ST
Speed: 105 | control: 69
RRP £159.99
---
Yuto Muramatsu VICTAS Blade – New for 2017/18 season – limited pre-season stocks available.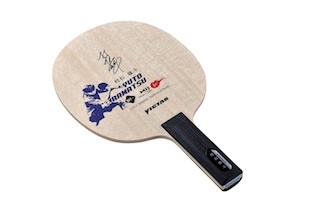 Japanese shooting star Yuto, is the key contributor to the development of this high-end blade.
The VICTAS design team have been able to improve the defensive control/precision of the 5-ply design and by adding a special White Mahogany outer they have also created the offensive character required when mixing defence and attack.
The Yuto Muramatsu VICTAS Blade is a fast defensive blade designed to offer modern defenders, great reliability in defence, plus all they need when creating their own sudden counter-attacks!
Weight: approx. 93g
Handle: FL | ST
Speed: 58 | control: 90
RRP £119.99
---