Exclusive Paul Drinkhall Interview!
---
This week, we welcome a good friend of Bribar, Paul Drinkhall to our blog spot. Paul's been at the top of his game for several years, and he gives us some valuable insight into some of his key wins (and losses)! We hope you enjoy the interview – like most of us, Paul's looking forward to hitting a small white ball again!
---
What's been happening over the last couple of months?
It's been a busy time, and as usual I've been travelling away from home training and competing. In February I had a good run in the Portuguese Open, reaching the Quarter Finals and losing to the eventual winner Qui Dang from Germany 4-2. I beat an up-and-coming Chinese player before losing to my old team-mate Emmanuel Lebesson in the last 64 of the Qatar Open, which was disappointing but I reached the Final of the Men's Doubles with Pitch (Liam Pitchford) which was brilliant. Pitch and I retained our Men's Doubles titles at the English National Championships, and I lost in the final to Pitch 4-2 in a real tussle of a match.
Can you give us some background into your early years in the sport?
I've been around a long time! I started when I was seven, and I was already training properly at eight. My brother Bryn played also, and I think having an older brother helped me so much as I was always striving to beat him, so that brought me on quickly. I'll have been playing four nights a week for about two, maybe three hours at that point from 9 onwards. I won the National under 10s and 11s when I was 10, and only just missed out in the final of the Under 12s; by that point I'd been recognised by the England set up and things went from there really, I think I was fortunate to start at a good time when there was money being put into an England type of development squad and other things, and then the start of the National Academy in Nottingham. Being in Nottingham, gave me the opportunity to train against the best players in my age group for 3 hours per day after school and that's where I met the England coach at the time from China, Jia-Yi Liu.  I owe a lot to Jia-Yi, during this time things went very well for me as it helped me achieve a lot in my Junior and Cadet career both domestically and internationally.
Are there any wins or matches over the course of your career so far that are particularly memorable?
Of course! Winning the European youth titles as both a Cadet and Junior was special at the time, as it hadn't been won by an English player for so many years. In my last year as a Junior I actually won the singles, doubles and mixed doubles.  My first senior singles National title in 2007 whilst I was still a second year junior, beating Alex Perry in the final. Winning a Commonwealth Gold Medal with my wife Joanna in the mixed doubles, and winning Commonwealth Gold with Liam in the Men's Doubles. Oh,  and not forgetting winning a bronze medal at the World Team  Championships, beating France in the Quarter Finals was a huge match, I beat  Emmanuel Lebesson in the deciding game to send us through; it was a brilliant feeling for me and the team.  Also my two ITTF World Tour titles, I think the only other English player to win one was Carl Prean back in the mid-90s, I won in Spain in 2014 and in Serbia in May this year – in 2014 I got to the final of the Russian Open, so I qualified for the ITTF World Tour Grand Finals in Bangkok that year.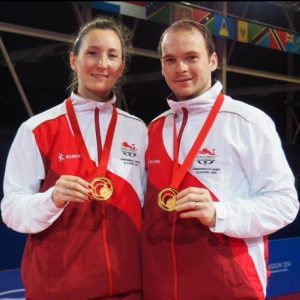 Are there any losses that for whatever reason have disappointed you more than most?
When I was 16 years old I was doing very well as a junior and starting to play well against some top senior players too – I  was 10-9 up in the 7th game against Ryu Seung Min, who at the time was the Olympic Champion and inside the world top 5. I got him away from the table, he's lobbing and I'm smashing, I played what I thought was a winner… he somehow got his bat to it only just, ballooned it up in the air, and I actually thought I'd won the point and right at the last second it seemed to change direction and just got the side edge of the table. He won 16-14…I'd played so well. That's one of those that will keep you awake at night!
What equipment are you currently using? Do you regularly change your blade and rubber combination for new products or do you tend to stick with a tried and tested formula?
Well, I've been with TIBHAR now since 2015, and I'm really happy with the equipment. I met with their Managing Director in Bangkok in 2014 when I was competing at the ITTF World Tour Grand Finals, and we discussed the possibility of me becoming a TIBHAR sponsored player. I'd not tried much of their equipment prior to this, maybe once or twice over the years on training camps  if another player had a new rubber or something to try out, but I liked his ideas and suggestions about how we could work together on some different equipment; TIBHAR are very big on research and development.
I travelled to Sarbrucken where they are based, and practiced with Bojan Tokic who played for the Bundesliga Saarbrucken club and tested all types of woods and composite materials for my signature blade and others that would be developed into a range of blades that I am proud to endorse, as well rubber top sheet surfaces and many different types of sponges. Through a process of elimination, I found the right combination for me. Once I played with my signature blade, the Drinkhall Power Spin Carbon, I loved the feeling; for me, it's incredibly well balanced. Arylate Carbon isn't for everyone, but personally the way it's combined in my blade… I love it!
After this, I was talking to TIBHAR about how we could then bring this blade to the UK market; TIBHAR had a presence here but nowhere near the level it had in Europe and Asia. The team at Bribar Table Tennis are great, I've got to know them over the years so they stood head and shoulders above the other options for me, and we've built a great partnership since then. There's five blades in my range, including my own personal choice, the Drinkhall Power Spin Carbon; I'd also better mention that my wife Joanna also worked closely with me on the development of the Drinkhall Defensive Classic, or I'll be in trouble as she did most of the work here!  I don't believe in varying my equipment very much, I very regularly change my rubber sheets but always for the same type, and I have a spare blade fitted with rubbers too for emergency situations. My blade is here to stay!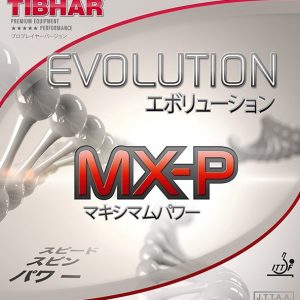 When I first tested rubbers and sponges for TIBHAR, I was very, very impressed with the quality, and in particular the consistency from one sheet of the same rubber to the next. I love the Evolution range, and I still play with the MX-P today; it's quick, spinny and has just the right type of medium hard sponge for my game. I tested the rest in the range too, almost all of them I believe; I was the first player to test the final version of the MX-S, that was just about ready for market around that time.
I do change my rubber sheets very regularly, and this is a luxury afforded to me through being sponsored of course. It's vital at this level, as they understand that every little bit of an advantage can make a difference – talk about marginal gains! That said, I'm also a firm believer that other players at different levels should try to regularly change their rubber sheets, especially if you're playing with inverted type rubbers. To produce the spin required for our sport, it's a very important factor.
Do you try new rubbers as and when they are released by TIBHAR?
Yes, absolutely. TIBHAR often want me to try the rubbers that they are developing at the time, but even just for me as a player,  If I think that a new type of rubber or some new technology becomes available, I want to be first in line to try it out! As I said earlier, you can get a real edge over your opponents this way if you find something that works better for your own particular style. When I get new stuff to try, I'll give them my feedback happily along with the other TIBHAR professionals so they can try to improve whatever rubber it may be. The next development is never far away!
How do you see Table Tennis progressing over the next ten years or so in terms of style and techniques?
That's a really interesting question. I remember watching old matches of Jan-Ove Waldner growing up, with his unplayable serves, and then of course the free arm rule changed things a fair bit. Wang Liquin, he was another massive influence on me when I was training as a youngster, what a great athlete, so much power in the legs for movement, and that forehand was something else. The game is different now in some ways; the fundamentals don't change, but changes in equipment can dictate our sport.
The way we have received service in the past 6 or 7 years has been a huge factor, with the different techniques now with flicking. It was always about keeping your opponent out and touching short, as anything half long would be punished… it's still important to play tight, but players flick much more now as an aggressive opening shot.
Players in general are even more athletic, you have to have good movement and good technique for power plus the rubbers are less forgiving since the banning of speed glue. Also players are much more content now to play more backhands, many players are now equally as able on both wings. Overall, I'd say players in general will become even more aggressive, the young Chinese players are very aggressive but also very consistent. I think they will continue to build on the power to consistency ratio, attacking consistently from both wings but also with minimum errors, like Ma Long or Fan Zhendong.
Finally, how are you managing to practice or train with the current Coronavirus situation?    
It's not easy. It's very important for me to try to stay in shape; I'm not able to do any practice on the table as I don't have one at home, and obviously I'm only making essential journeys to the supermarket etc. so I'm limited to physical conditioning.
I'm doing some interval training, some 5k runs, skipping and core strengthening work in the house and in my garden to maintain my level of fitness. Hopefully things can improve sooner rather than later so I can get back to the table to do some training, but for now I'm stuck at home but enjoying the time with my family.
---