Brand New Pimples for the 17/18 Season!
---
We get excited when new rubbers arrive in the office and especially new pimples!
Here's a run down of the new rubbers for this season from TIBHAR, TSP, JOOLA, PIMPLEPARK and Sauer & Troger…
---
That hurts – your opponent puts another of your shots with Schmerz in the net. You don't need to be unhappy at your opponents despair but you can celebrate your own success!
Schmerz long pimples give high disruptional effect combined with easy to play attacking options. The medium hard feel helps in playing attacking strokes, particularly in the 0.5mm version.
Effect 72 Speed 44  Control 71
Thickness Ox / 0.5
Long Pimples Classic Effect
---
PiMPLEPARK WOBBLER (Long Pimple)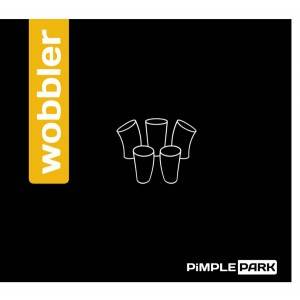 The first rubber from new brand Pimplepark and designed for the 40+ ball. A long pimple (1,7mm long) for close to the table disruptive play; slightly grippy medium hard pimples, good for pushing strokes and short blocks.
Def + / All – / All
Thickness Ox / 0.5
Long Pimples Classic Effect
---
PiMPLEPARK CLUSTER (Long Pimple)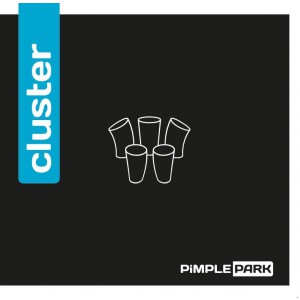 Slow long pimple designed for the plastic ball. Suits close to the table disruptive players who require high control. Thanks to the low speed, short returns close to the net can be played against heavy topspin with precision and the non slip surface allows good reversal.
In the no sponge (ox) version, the rubber is perfectly suited for a controlled, disruptive game close to the table, whereas the sponge versions also allows a defensive game away from the table with plenty of spin.
Def / Def + / All – / All
Thickness Ox / 0.5
Long Pimples Slow Effect
---
JOOLA CWX (Long Pimple)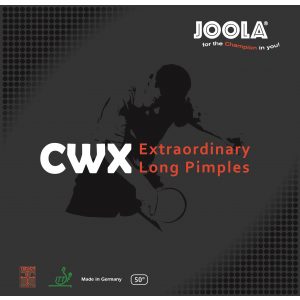 A long pimple developed with defending ace Chen Weixing to meet requirements for modern defensive play.
The pink coloured 50° sponge with integrated Tensor technology offers enormous dynamics when chopping at mid and long distance, but is, however, controllable with disturbing strokes close to the table due to the sponge hardness and flat trajectory.
The grippy micro structure of the pimple heads and the flexibility of the narrow pimples also allow an extreme chop – rich defence with maximum control.
Effect 70 Speed 58 Control 68
Thickness Ox / 0.5 / 0.9
Long Pimples
---
TIBHAR SPEEDY SOFT XD (Short Pimples)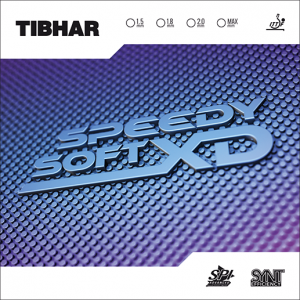 High speed- short pimple out for the attacker who plays at the table. The grippy pimple heads allow a large variation of spins and at the same time allow easy transition for players changing from reverse rubber to short pimples or twiddling with combination bats.
The catapult rich sponge provides high speed and the elastic rubber surface enables you to put the required pressure on your opponent in all situations
All + / Off – / Off
Catapult Short Pimples
---
TSP SPINPIPS BLUE & RED (Short Pimples)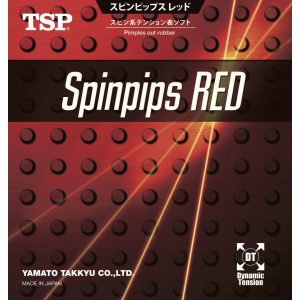 Top end version of the Spinpips short pimple range with built-in Dynamic Tension Technology for aggressive pips-out players. This rubber uniquely combines the speed of a hard, open-pore sponge with the proven great spin potential of the special Spinpips pips geometry.
Red is the softer and faster version and will give your opponent a hard time!
Spinpips Blue     Spin 66 Speed 96 Control 74
Spinpips Red     Spin 65 Speed 100 Control 71
All + / Off – / Off
Thickness 1.5 / 1.8 / Max
Catapult Short Pimples
---
S & T ZARGUS (Short Pimples)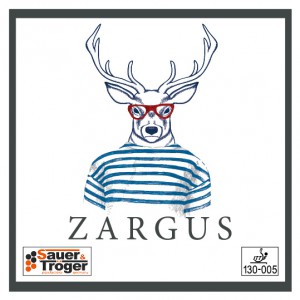 A wide short pimple designed for best control and consistency. Easy to use and place the ball precisely playing defense or attack.
Spin 60 Speed 60 Control  95
All – / All / All +
Thickness 1.5
Traditional Short Pimples
---
S & T HIPSTER (Mid Pimples)
Hipster is a new mid length easy to play pimple. The soft feel allows you to play disrupting shots with long pimple effect when playing passively but to also counter hit and topspin when attacking.
Spin 57 Speed 70 Control 80
All / All +
Thickness 1.5 / 1.9
Mid Pimples
---
---