A catch-up with Jack Hunter-Spivey – National Para Champion!
---
In our latest blog we asked Jack to give us a bit of background on himself, a feel for his Nationals success and what he's looking forward to…
---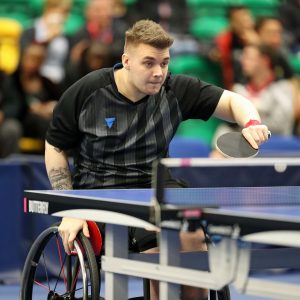 'My name is Jack Hunter-Spivey, I'm current world number 8, currently English and British champion, a Rio 2016 Paralympian and I haven't lost a competitive match in Great Britain for 6 years!
I'm originally from Liverpool but now living and training as a full time athlete in Sheffield training at the English Institute of Sport. I compete in Para Class 5 and I have an attacking playing style, and much of my success has been due to my tactical awareness and mental strength when under pressure.
Like many kids I started playing Table Tennis in a youth club at the age of 10, I enjoyed the sport but when I heard that London had won the bid for the Olympics and Paralympics, I knew then that I had to be a Paralympian.
I joined Halton Table Tennis club and started on my journey of trying to become a Paralympian Table Tennis player. And I'm so proud to say that I managed to achieve my dream when I competed in the Paralympic Games at Rio in 2016.
In my professional Table Tennis career I have been lucky to travel the world and to win quite a few medals and titles – there's a great article on the British Para Table Tennis website that has some more background on me and some of my achievements.
English Senior National Championships 2020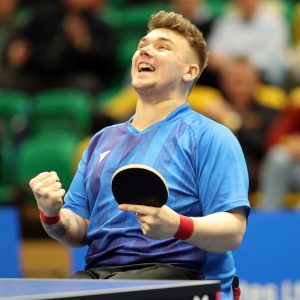 This years National Championships was my first competition of 2020, I was really looking forward to competing again and to see if my hard work in training would pay off.
Going into the first few group matches, it took me a while to get back into my stride and to competing at the level I know I can play. My opponents are improving all the time and are pushing me all the way, so I was really happy to progress to the final after having some tough matches on the Saturday.
Heading into the final, I was excited to compete on the one table format and in front of a crowd. My opponent was Dan Bullen who I have played many times previously so we know each others game well. I actually beat Dan 3-2 in the group stages the day before, but I was a bit nervous going into the final, I knew Dan was playing really well and it was going to be a tough match.
I felt in the final that although I didn't play my best level, I started to feel more comfortable as each set went by and I was able to use my experience at crucial points to edge over the line under pressure – even though Dan played really well.
Retaining my National title means the world to me, to say I'm National Champion is something I am really proud to say and it's something I will never take for granted.
My main goal now is to get myself qualified for the Paralympic Games in Tokyo 2021 and to hopefully bring home a medal!
I would like to say thank you to my friends and family for supporting me in following my dreams, Halton Table Tennis for starting me off on this journey and continuing to support me and to the GB Para Table Tennis team and staff for allowing me to training and compete at the highest level.'
---
Jack's equipment is sponsored by VICTAS/Bribar Table Tennis and he uses a Victas Fire Fall SC blade with Victas V>15 extra rubber
Follow him on Facebook, Twitter and Instagram
For more information on Jack's journey read 'Jack's Story' on the British Para Table Tennis Website
---