Welcome to our NEW BLADE section for 20/21 featuring the latest tech from JOOLA including the VYZARYZ, SANTORU & XYLO models:
---
JOOLA VYZARYZ BLADES (PREMIUM LINE)
JOOLA VYZARYZ FREEZE
---
---
JOOLA SANTORU BLADES (PROFESSIONAL LINE)
JOOLA SANTORU 3K-C
THE FULL-TILT POWER MOVE DEVELOPED TO MEET YOUR NEED FOR SPEED.
Harness the power of the JOOLA Santoru 3K-C for your offensive game! This powerful 3+2 ply blade utilizes a solid Kiri core with soft Hinoki outer veneers to create a unique playing feel.
In between is our 3K-C, a state-of-the-art Carbon fiber weave, which creates an enlarged sweet spot and adds extreme speed. While fast, the bigger sweet spot provides a shocking level of control.
This hard-hitting blade with direct responsiveness has a lower trajectory and is perfect for close-to-the-table play and for putting pressure on opponents. Be prepared to hit your game-winning shots with the torpedo-like speed of the JOOLA Santoru 3K-C!
3K-C CARBON FIBER WEAVE
Every strand of fiber in this 3K-C weave is made up of 3,000 individual Carbon filaments. The 3K-C significantly reduces vibrations to create an enlarged sweet spot and produce a flat ball trajectory. Truly an offensive weapon in all aspects, this fiber's most notable characteristic is its hard, direct touch.
5+2 PLY POWER PLAY COMPOSITION made of Hinoki – Carbon – Kiri – Carbon – Hinoki
---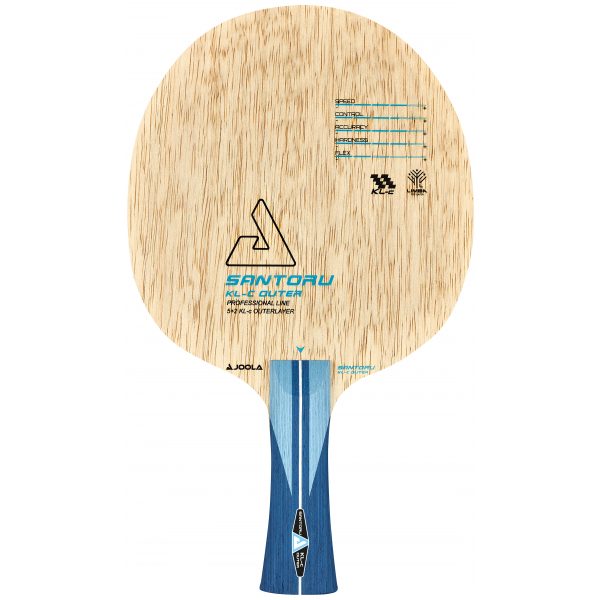 JOOLA SANTORU KL-C OUTER
THE ALL-IN-ONE – SPEED, CONTROL, AND PRECISION ALL IN THE PALM OF YOUR HAND.
The power you want and the touch you need is what you'll get with the JOOLA Santoru KL-C Outer! This 5+2 ply blade features soft Limba outer veneers that sit directly on top of Kevlar-Carbon (KL-C). Paired together with a strong Kiri core, the JOOLA Santoru KL-C Outer provides uncomparable levels of speed, control, and accuracy that's well-suited for the modern topspin player.
Never miss your shots with the laser-like precision of the JOOLA Santoru KL-C Outer!
KEVLAR-CARBON OUTER LAYER
Best known for its use in bulletproof body armour, lightweight Kevlar is able to soften hard blows. It is this characteristic that when woven with Carbon, helps to create a medium-hard stroke with shocking levels of control.
Outer Layer design emphasises the characteristics of the KL-C composite material by utilising it directly beneath the blade's outer veneers. The resulting enlarged sweet spot provides a more direct touch, a flatter ball trajectory and a higher speed value.
5+2 PLY DYNAMIC TOUCH COMPOSITION made of Limba – KL-C – Ayous – Kiri – Ayous – KL-C – Limba
LIMBA OUTER VENEERS
A soft and durable wood, the LIMBA outer veneers perfectly complement the AL-C to provide the ultimate touch for your spin needs.
---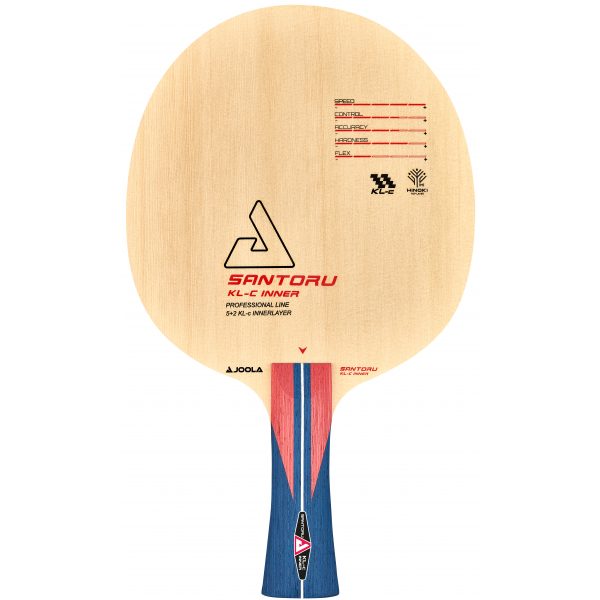 JOOLA SANTORU KL-C INNER
THE TORPEDO FOR THE PRECISE STRIKE.
Be in control of your every move with the JOOLA Santoru KL-C Inner! This 5+2 ply blade features high-quality Hinoki outer veneers that create a nice soft touch in the short game, and extraordinary speed when hitting.
The main draw of this spin-oriented blade is the Kevlar-Carbon (KL-C) fiber weave in the inner construction. It creates better feeling while giving you the ability to be even more precise during topspin play. In-between these 2 veneers is Koto, added to further optimise ball control for looping and countering.
You'll never have to sacrifice speed for control with the JOOLA Santoru KL-C Inner!
KEVLAR-CARBON INNER LAYER
When lightweight Kevlar is woven together with Carbon to create the Kevlar Carbon (KL-C) used in the JOOLA Santoru KL-C Inner, it gives the blade a larger sweet spot while softening up the hard touch of the Carbon. This creates an unprecedented level of control for a blade of this speed.
Inner Layer design intentionally utilises the composite material as inner layers on top of the core instead of directly beneath the outer veneer. This maintains the blade's stiffness while providing a softer touch and more control.
5+2 PLY POWER & PRECISION COMPOSITION made of Hinoki – Koto – KL-C – Ayous – KL-C – Koto – Hinoki
KOTO OUTER VENEERS
A soft topspin wood, the KOTO outer veneers round off the blade by providing a crisper feel for direct and powerful shots.
---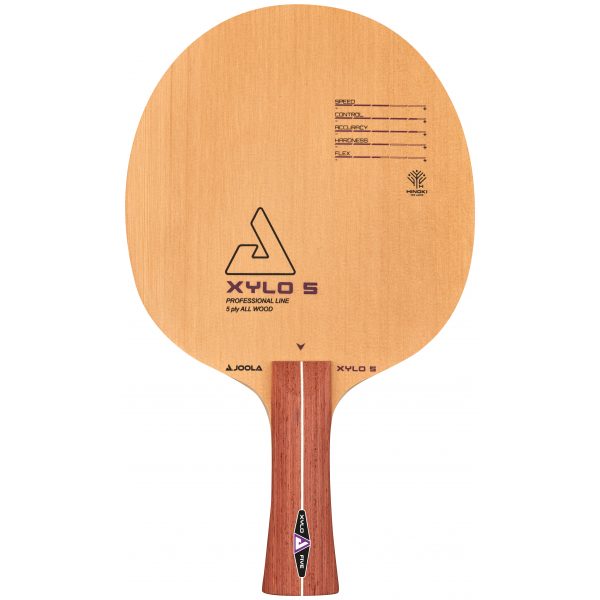 JOOLA XYLO 5
THE BULLSEYE – UNPARALLELED CONTROL AND PRECISION.
The JOOLA Xylo 5 is an innovative all woodblade designed for the top player! This 5-ply blade consists of a Kiri core with Ayous inner layers, which provide the perfect amount of control and feedback. What makes this blade special is its "toasted" Hinoki outer veneer. A special heating technique ensures the Hinoki has a higher stiffness for speed, and an overall balance and consistency for the whole blade. If you're looking for control, precision, and an all-natural feel, the JOOLA Xylo 5 is the perfect choice for you!
5-PLY BLADE COMPOSITION
HINOKI OUTER VENEERS
HINOKI, a highly sought-after premium Japanese wood, is often recognised by its rich, straight grain. This wood is characteristically soft with a bit of bounce and creates a one-of-a-kind touch that increases dwell-time for extra spin and control. In the JOOLA Xylo 5, the HINOKI veneers were "toasted" using an innovative heating technique to increase the blade's speed by enhancing the wood's stiffness.
AYOUS INNER LAYER
Native to Africa, AYOUS perfectly offsets the weight of the Hinoki outer veneers with its lightness and has great strength-to-weight ratio. Due to the wood's naturally larger pores, it maintains elastic characteristics that make it ideal for close-to-the-table play.
KIRI CORE
Durable and hard, yet still lightweight, KIRI is utilised as the core veneer and is the key to maintaining the blade's overall balance. This stiffer wood reduces vibration and is great for taking those direct shots.
---