Exclusive Liam Pitchford Blog from Japan!
---
We asked Liam to give us an insight into his packed playing schedule including his latest challenge playing in the exciting new T.League in Japan!
---
T.League training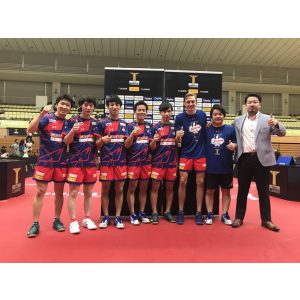 Ever since I signed up to play in the T.League I've been looking forward to getting out to Japan. Having followed last year's league season, I saw just how professional the set up was and how strong the league was – I couldn't wait to get started with my new team!
I flew out 5 days before our first match to have a few practice days with the team and to get used to the time difference. As soon as we got into practice I knew I'd made the right choice to come here, practice was hard, focused but also fun. I find it really important to enjoy my training, and something which I think I've been missing recently, so it was a breath of fresh air and really did make it feel like a new start.
T.League debut
When it came to the first match I was excited but quite nervous as it was a new experience and I didn't know 100% what to expect. There were around 2000 spectators at the match and the organisers put on a real show! I played a decent game and managed to come through 13-11 in the 5th set against Yoshimura – getting my first win was a real relief and it lifted a bit of pressure off my shoulders.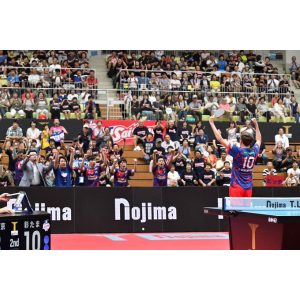 The following day we had our second match and unfortunately I couldn't quite get into a rhythm, losing 3 close sets against Yoshida, nevertheless, I felt I was still playing quite well and I was happy with how it was going overall.
Straight after my match in Japan I flew to Nantes for the European Team Championships…
European Team Championships
The next couple of weeks was where things got tiring!
Arriving late on Sunday night in France and having our first match on Tuesday wasn't ideal but something I knew I would just have to deal with. Fortunately I could rest for the first match and the boys did a great job to get us the win which left us needing to beat Belarus to go through the group.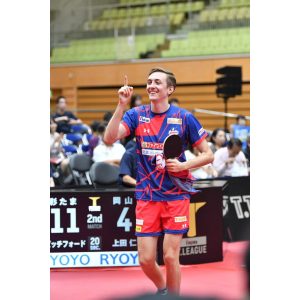 Feeling like I was adjusted to the time zone and feeling fresh I made a great start beating Platonov in the first match but with Samsonov in their team we knew it still wasn't going to be easy. Sam winning in the third match was very important and gradually growing in confidence through the match I managed to get a good 3-1 win against Samsonov (World ranked 21) and put us into the Quarter Finals against Sweden!
I think we'll all admit that it was probably one of the worst matches we've played as a team, none of us found any rhythm and they were too good on the day – so it was a very disappointing end to the tournament.
No rest though and back on my travels…
Quick return to Japan!
The next day I set off to the airport and headed back to Japan for another couple of matches, tiring long flights but in my head I was ready to go and ready to learn from the matches in Nantes.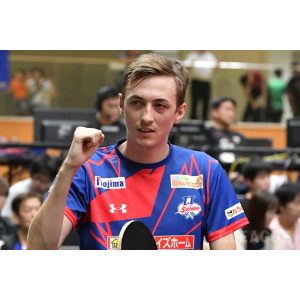 In my first match I got the opportunity to play against one of the best players in the world, Jun Mizutani (World ranked 13), we've played a couple of times before both ending 3-2 one win for us both. This time however I was aggressive from the start and never gave him time to settle and came away with a 3-0 win.
With my confidence up I came straight out the blocks again the next day against another strong player Jin Ueda, dominating the rallies and tying him up tactically I got myself another 3-0 win and helped the team to another victory putting us top of the table for now!
Travel back to Europe
Now I'm heading back to Europe for training and tournaments with a new found belief in myself but I'm looking forward to coming back for the next T.League matches in November.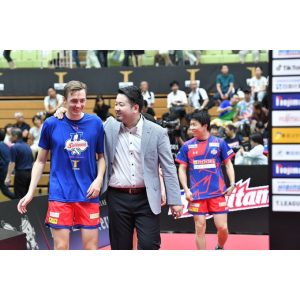 I couldn't have asked for a better team or nicer people, they've made me feel at home straight away and that is one of the most important things when you are going to a new country with different culture and different food…
Thank You Japan!
Liam is sponsored by VICTAS in partnership Bribar Table Tennis and uses VICTAS V>15 Extra rubber on both wings with a VICTAS ZX-GEAR IN blade.
---