British Army Table Tennis – An increasingly popular sport.
---
At Bribar Table Tennis we are proud to have entered a partnership with the British Army Table Tennis Association for 2020 onwards. In these extraordinary times, the Army and our other forces will be doing a great deal to help us as a nation – thank you.
A few weeks back we asked the British Army TTA to let us know a little more about their history and organisation, the rivalry in the forces and their plans for the future…
---
Our Table Tennis History
Ping-pong or Table Tennis as we know it today, developed as an after-dinner pastime in England in the late 19th Century and a form of the game was also being played as long ago as the early 1880's by British Army officers in India and South Africa. These officers are said to have used cigar box lid as paddles, rounded wine-bottles as balls and books as a makeshift net.
Early names for the sport were many and varied and included 'gossima', 'whiff-wharf' and 'ping pong'. Whatever you call it, the sport has become increasingly popular within the Army, and in April 2016, the Army Men's team became the Inter-Services Champions for the first time in 33 years, victory was even sweeter, as they defeated the RAF, who had been Inter-Services Champions for three decades.
This result was impressive, but even more so with the Ladies' team winning their competition as well. This meant the Army finally achieved the 'double' making it a year to remember!
Our Table Tennis future
The highlight after that historic win in 2016 was the Army Ladies' team securing a convincing 10-0 win against the RAF (Royal Air Force) to become the 2019 Inter-Services Champions. The Army Men's team proved their team's depth is improving all the time in spite of losing to the RAF with a respectable score line of 6-4.
Today, Army Table Tennis is going from strength to strength with numbers increasing each year especially female participation. At the last Army Table Tennis event we had 70 entries which is a record high compared to several years ago when the Army Table Tennis Association (ATTA) had around 35 entries. Positive stats.
With new players getting involved each year we are giving our Sport the best chance of finding top new talent. At the last Championships we found a new star, who plays National League Division 1 Level and is now the new Army Men's Singles Champion. He will now play alongside our other relatively new star player (and former Welsh International) as the Army Team's new top 2 players.
British Army Table Tennis welcomes absolute beginners to the very top players. Table Tennis is a fantastic sport where you can meet new people and have fun. We also offer top of the range coaching sessions for all players. Part of our professional coaching team is Alison Broe (Gordon), former England International Table Tennis player and for this year's Championships we had guest coach Ryan Jenkins, Welsh National Coach. ATTA along with the players hope it is not a one-off visit!
It is a privilege and honour to have them both part of our set up as well as our new Sponsors Bribar Table Tennis.
---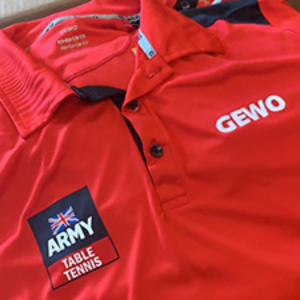 Check out the new British Army Table Tennis kit for 2020/21 season!
You can follow British Army Table Tennis on Instagram, Facebook and Twitter plus visit their Website for more details.
If you are interested in playing, coaching, officiating or spectating please get in touch at army_table_tennis@outlook.com
Action Photo – by Graeme from Soldier Magazine.
---