The FEVER has a 5+2 ply construction, starting with the 2 ply layers, these are a lightweight meliorate carbon which gives not only an extra large sweet spot but also perfect balance. The 5 ply layers are limba wood veneers, that allow you to feel the ball when playing all varieties of shots, this allows extremely precise strokes whilst retaining excellent ball feeling. The FEVER is designed for a modern driving and spinning game…
Specs
Speed 90. Control 75. Weight 85g. Handle – An, Fl, St. 
Cost: £104.99 £85.99 
---
Why is the FEVER blade a Staff favourite?
Strictly by numbers, the FEVER blade is one of the best selling blades we have ever had but there's good reason for this… it's a quick blade but not outrageous! Wes Bush-Harris, Digital Marketing Manager has used one for the last three seasons – 'I would recommend to anyone looking to play an attacking topspin game, the good thing about the FEVER blade is you still get the control to keep the touch on serves and returns tight – it's a great blade for positive players!'.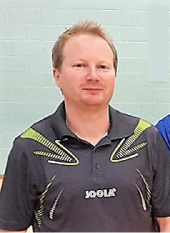 Wes Bush-Harris, Marketing Consultant to Bribar TT.
Wes has been involved in Table Tennis for 30 years, playing and coaching at a County, British League & International Schools level. He has worked in the Sports Industry for 20 years in development, marketing and sponsorship roles. Frequently injured – he now talks a good game!